Stockholm University excels in the 29th edition of the Vis Moot competition!
A team of six law students at Stockholm University competed in the 29th annual Willem C Vis Arbitration Moot, and achieved a place amongst the top 64 (out of 390) teams.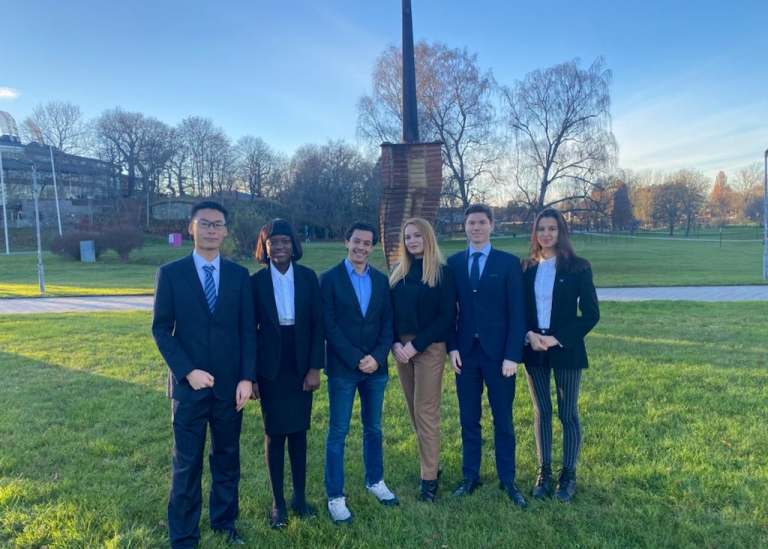 The Willem C Vis Arbitration Moot is the largest student competition in the field of international commercial law and arbitration. Every year, it brings together students from hundreds of universities worldwide, in an effort to foster the study of international commercial law and arbitration, as well as enhance their advocacy and writing skills. This year, the 29th edition took place between the 9th and 14th of April, once again, in a virtual format.
Undaunted by the challenges of the virtual moot, the Stockholm University team successfully competed in the general and elimination rounds, achieving a top 64 position out of almost 400 teams. In addition, the Stockholm University team obtained an 'Honorable Mention' award for their written submission for Respondent, classifying them in the top 5% universities.
During the general rounds, the team competed against the University of Maribor, Jamia Millia Islamia, University of Iowa College of Law, and the University of Sao Paulo (Ribeirao Preto). In the elimination rounds, the Stockholm University team faced the team of the University of Zagreb, which prevailed in the round.
Our team consisted of Stockholm students: Alexander Ekegård Ballin, Andra Curutiu, Halleluyah Oluwadara Afon, Karim Bounab, Mihaela Tarnovschi and Zhouquan LU. Patricia Shaughnessy, Fabricio Fortese and Miljana Bigovic led the team's coaching throughout the written and oral stages, which also included several pre-moots and online practice rounds.
This annual event provides a unique opportunity to highlight the strength of our Department's education and research competence. We are happy and proud of our team's dedication to advancing and excelling in their education. Congratulations on your achievements!
We are grateful for the continued generous support of VINGE Advokatybrå, which makes it possible for our teams to compete in the competition every year.
Last updated: April 19, 2022
Source: Department of Law