Roots and branches will become clothes for healthcare professionals
Residues from Swedish forestry will replace cotton in the production of clothing textile fabrics for attire worn by healthcare providers, and thus reduce the climate load. This is the goal with a research project underway at Stockholm University in collaboration with Region Stockholm.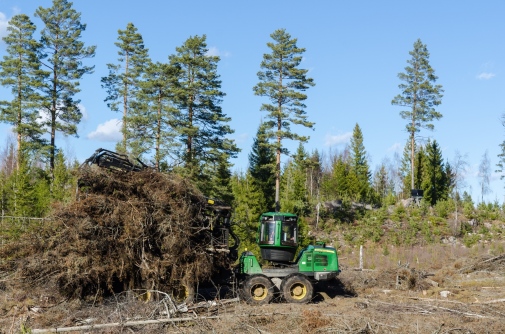 Its forests are one of Sweden's leading raw materials and the materials extracted from the forests are used primarily as wood and for various products based on pulp. Branches, roots, tops, and smaller stems are left behind on felling sites. These decompose and nourish the forest that will then grow up. Logging residues (forest residues, sometimes called "hog fuel"), consisting of branches, roots and tops, is the collective name for the residues from logging. Some logging residues are put to use as fuel to be burned and converted into energy, however most of it remains in the forest.
Joseph Samec is a Professor in the field of Organic Chemistry and is researching how residues from forestry operations can be given new uses. Among other things, he studies lignin, a substance that binds together cellulose fibres in wood, and which was previously considered a residual product in the forest industry, for the purpose of exploring if it can be used for aviation fuel.
Aji Mathew is a Professor in the field of Materials Chemistry who is conducting research into bio-based functional nanomaterials – meaning materials designed to offer a specific mechanical, chemical or biological function. One such material is nanocellulose (CNF), which comes from bio-based raw materials. Nanocellulose can be used for many purposes, such as for water purification and in biomedicine.
Together with Region Stockholm, Joseph Samec and Aji Mathew will now explore if it is possible to use residues from the Swedish forest to replace cotton in attire worn by healthcare providers.
Major climate impact of cotton
Cotton is a raw material with a major environmental and climate impact. Large areas of land are required to grow cotton; the production requires massive amounts of water; and conventional production consumes a huge amount of chemicals that are harmful to the environment. Given that oil is soon to be depleted, the climate changes are accelerating, and the global population is increasing, there is a need to prioritise the cultivation of food on existing arable land and not to cut down more forest. And if it is possible to find substitutes for cotton in the production of clothing textile fabrics, significant amounts of land can be released to grow food crops instead.
There is enormous potential here to use more of the residues from the forest, and that these can be used to replace other raw materials that have greater climate and environmental impact. According to Joseph Samec, it is possible to use 40 million cubic metres of logging residues in Sweden every year, without affecting the sustainability of forestry. Some 20 million of these would cover Sweden's total need for textiles and fuel.
"By using logging residues, Sweden can become self-sufficient in textiles and also cover significant needs for plastic and fuel. Sweden could even become a net exporter of materials, chemicals and fuels, from logging residues," observes Joseph Samec.
Logging residues to replace cotton
Region Stockholm, the Stockholm Regional Council (formerly Stockholm County Council), is engaged in initiatives to achieve the UN's global Sustainable Development Goals. Therefore Region Stockholm has an interest in reducing the consumption of cotton, which is resource-intensive and has environmentally harmful impacts. Region Stockholm is now providing funding for the research that Joseph Samec and Aji Mathew are already conducting with funding from Mistra among others.
Together with Region Stockholm, the project's focus is on using logging residues to find a substitute for cotton in textiles used in healthcare, primarily that used to produce attire worn by healthcare providers. Region Stockholm provides researchers with the input values they need to produce the fibres that can be used for textiles, such as requirements relating to durability. It is also within the health and medical care services in Stockholm County that the textiles are to be tested. First up is to explore if logging residues can be used as clothing textile fabrics for scrubs, the smocks that health providers wear. The first step in the process is that the researchers receive access to scrubs made from cotton. These are then shredded for the purpose of being able to study the properties of the fibres and thus what is required of the new material.
Need to scale up the production
Aji Mathew and Joseph Samec's research areas complement each other well. Samec's research group looks at how the logging residues can be converted into pulp. Aji Mathew's research group concentrates on converting the pulp into textiles that can be spun into cloth and have the desired properties. In the first stage, Aji Mathew's group will produce the fibre in the lab. However in order to be able to use the material, the fibre must also be produced in a form so that it can be spun and used for the production of clothing textile fabrics. Aji Mathew and Joseph Samec have already been collaborating in a Mistra project relating to using forest-based fibre for textile fabrics. They are also working together with other parties, such as Karlstad University on the production of fibre.
Significant potential in forest residues
According to Joseph Samec, there is enormous potential in logging residues. Nor does he see that the increased extraction of logging residues would cause problems with nutrient leakage from the ground. Research from Skogforsk, the Forestry Research Institute of Sweden, among others, shows that the roots that remain in the soil are sufficient enough to nourish the soil.
"We believe that Stockholm University can play a very important role in creating a platform for finding new uses for forest residues. This primarily concerns sustainable raw material and this can be of significant importance in addressing the climate challenges," observes Joseph Samec.
Work is also underway at Stockholm University to establish a Master's degree programme in green and sustainable chemistry:
"This project can be an excellent way to profile green chemistry," comments Aji Mathew.
Read more about Aji Mathew's research: Designing on a nanoscale for a more sustainable society