"AI is in its childhood"
The digital transformation brings great opportunities – and equally big challenges. To tackle problems and design our future digital society, we need to combine knowledge and experiences from different stakeholders. This is exactly what happened on October 19–20, 2022 at Stockholm University.
Snapshots from the hybrid conference Digitalize in Stockholm 2022. Photos: Åse Karlén.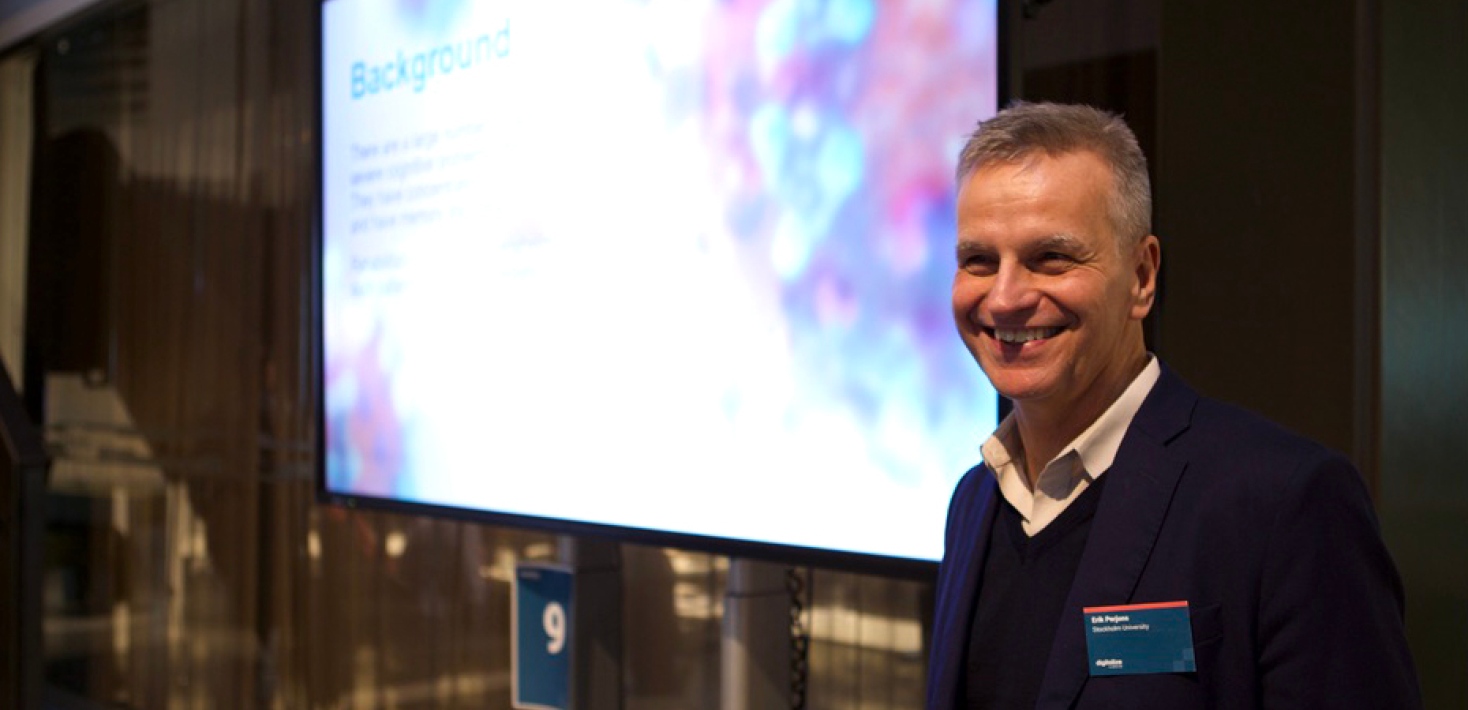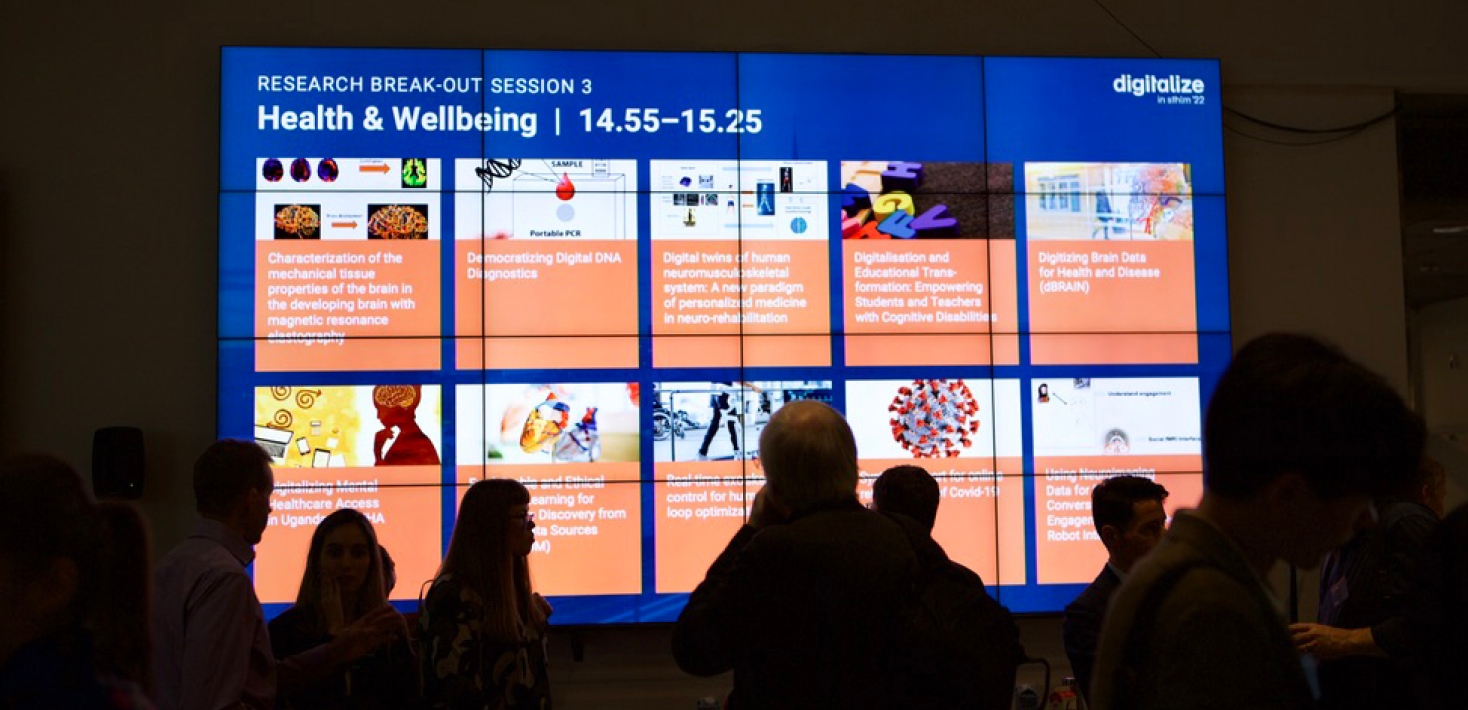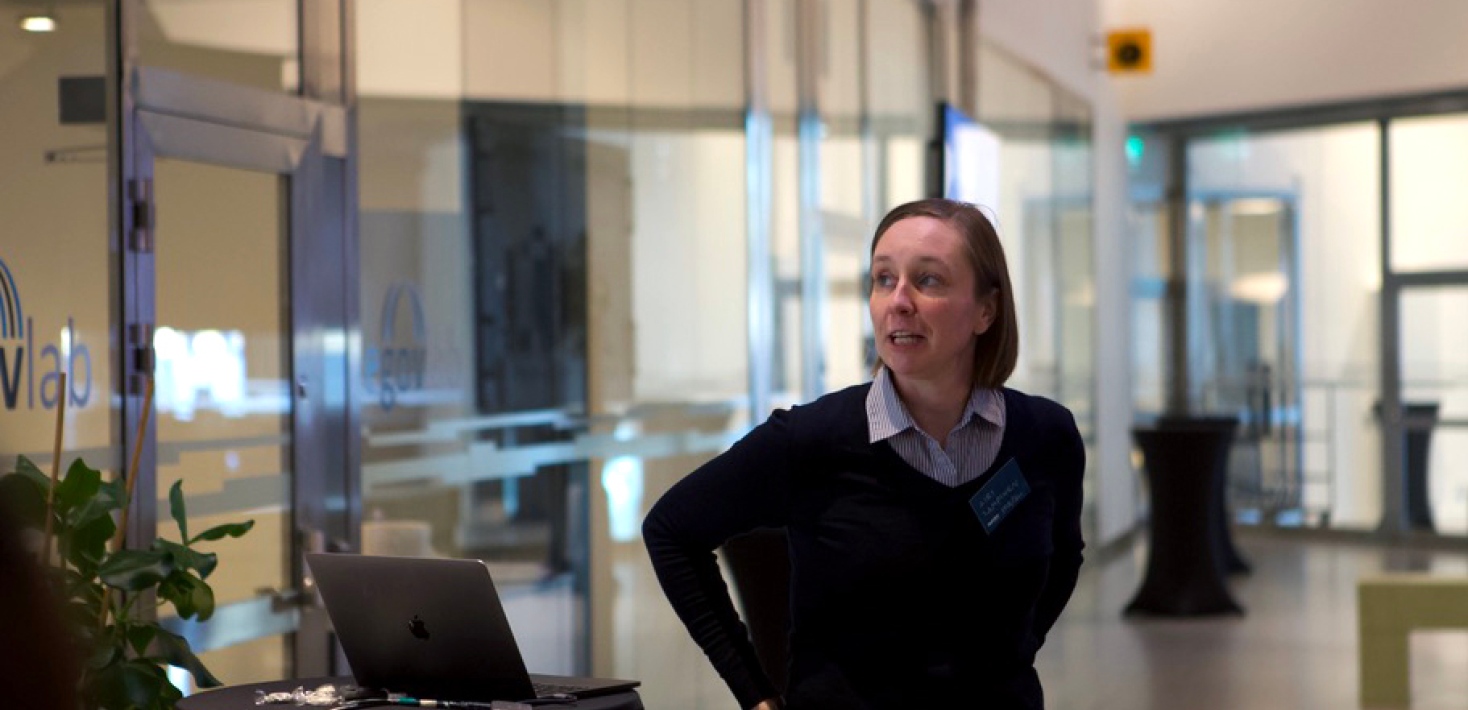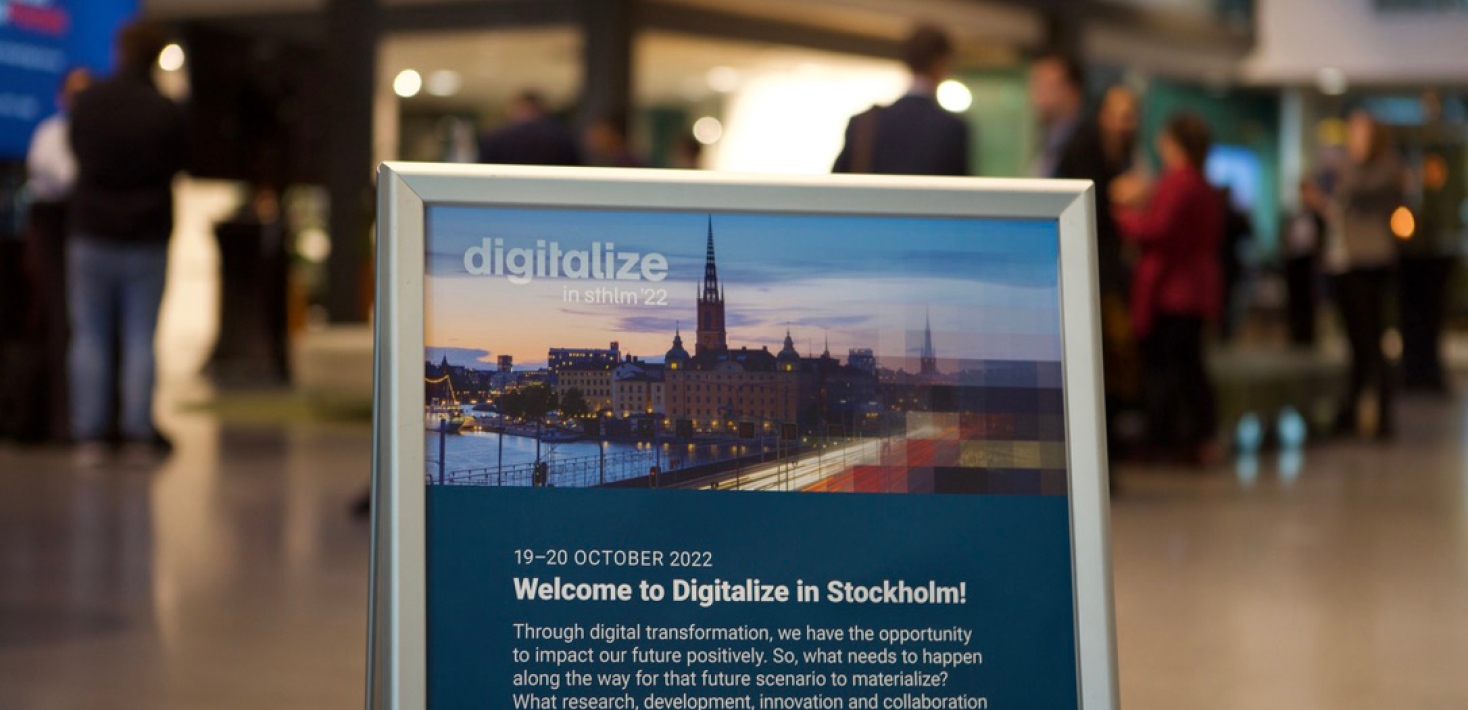 Digital twins, 6G, crypto wars, integrity, hybrid architectures and fairness. The yearly conference Digitalize in Stockholm included a wide array of topics and perspectives.
First up was Swiss professor Aude Billard. In her keynote, she presented results from crash tests between cobots – collaborative robots, designed to interact with humans – and people in a crowd. The cobots did not perform well at a fair when faced with irrational humans who stopped to say hello to friends, or made a rapid turn.
"We know how cobots work at home, but not how they manage big crowds", commented professor Jelena Zdravkovic at the conference. She is Head of Department of Computer and Systems Sciences (DSV) at Stockholm University.
"AI is here to stay – yet it is still in its childhood. Artificial intelligence can solve small problems but bigger challenges lie ahead", she continued.
Participants from all over the world
The conference was organized in a hybrid format, gathering representatives from academia, industry and the public sector from 26 countries. The onsite event was located to DSV at Campus Kista.
During the two days, international keynote speakers were mixed with panel discussions organized by Skanska, Scania, Ericsson, Region Stockholm and Karolinska Institutet, just to name a few. In breakout sessions, new research projects and the latest results from ongoing projects were presented.
"Digitalize in Stockholm is a cross disciplinary event, shaped by the people who participate. It's an opportunity to meet world leading researchers and to really interact in breakout sessions", said Anna Kiefer, chief operating officer at Digital Futures, when she summarized the conference.
Ethics and integrity
Digital platforms give people access to information, which most often is a good thing. But then there are the negative side effects: hate speech, alternative facts, criminal activity… Several speakers addressed these issues.
"If you thought AI was hard, try doing ethics for a week", said Alon Halevy, Director at Facebook AI, in his keynote. The theme was "Human Values and Integrity in Social Media Recommendations".
We're all in this together
Halevy was one of the keynote speakers who was physically present at the conference. He thinks it is crucial to have various stakeholders in the room when discussing integrity of online networks.
"We need to include people from multiple disciplines and perspectives. It's important for people from academia to meet people from industry and civil service. We're all in this together", says Alon Halevy after the conference.
"In computer science we're used to solving problems. But the issues we're facing here are about tradeoffs, not problems. This is a different mindset", he adds.
Designing human-friendly AI
Tuomas Pöysti, Chancellor of Justice of the Government of Finland, was present during both days of the conference. The theme of his keynote speech was "Rights by design and default in hybrid architectures – realizing human-centric public service in human-intelligent machine co-work".
"The main message in my keynote was that in the future, humans will live and work together with intelligent systems. This needs to be regulated by law. To get human friendly AI, we need to plan for an intelligence architecture that includes both humans and machines. AI development is a question of leadership, human resources and procedures, and interaction between humans and information systems", says Tuomas Pöysti.
Humans will live and work together with intelligent systems
This calls for fundamental change – a challenge in itself. Will we be able to rapidly develop the knowledge needed? And will we realize the full potential of the digital transformation? It takes patience, systematic work, agility and tolerance to imperfections, according to Pöysti.
"At events like Digitalize in Stockholm, academia can test the relevance of its research and look for partners in the industry. For government representatives, it's a good opportunity to meet companies at the forefront of development."
"Universities, business and the public sector must use the opportunities at hand and develop knowledge and technology further. It is not enough to cooperate, we need to really work together to create something new. This is a more demanding process than cooperation", says Tuomas Pöysti.
In his role as the Finnish Chancellor of Justice, he says he gained some useful contacts and ideas to take home from the conference.
"I got some valuable input to our work with a sustainable constitutional state, an effective democracy, and a future oriented government. In conversations with other participants, I also gained some new ideas on how to deal with imperfections in complex systems", says Tuomas Pöysti.
About the conference
Digitalize in Stockholm was organized October 19–20, 2022 as a hybrid conference. More than 200 participants were present onsite at the Department of Computer and Systems Sciences (DSV), Campus Kista, Stockholm University.
Conference program and speaker bios available on the conference website
This yearly conference is organized by Digital Futures, a collaboration between Stockholm University, KTH and Rise.
Last updated: October 26, 2022
Source: Department of Computer and Systems Sciences, DSV