Hyped maker movement could be a way forward
What can we learn from makers and the global maker movement? Quite a lot, according to a new PhD thesis. Makers can help us see opportunities in new technology, be more playful – and mindful of resources.
The maker movement was born in 2005 and quickly conquered the world. The trendy concept is related to sub cultures like punk, amateur radio, hackers, open source and DIY, and peaked around 2015.
Basically, the movement is about people meeting in a physical place – a makerspace – and sharing material, machines and knowledge. The aim is to create something new, individually or together with other makers. Innovation is sometimes the goal, but most makers are more interested in the creative process leading up to the end result.
I also see code as a material
Sophie Landwehr Sydow has explored the practice behind the hype. What is it that makers actually do? And how can we understand the interaction between makers, materials and machines? These questions are the foundation for her PhD thesis.
"I've studied a group of real tech enthusiasts. Some would call them nerds", says Sophie Landwehr Sydow with a smile.
She's visited makerspaces around the world, for example in Silicon Valley, USA. But in her thesis, she focuses on Stockholm's biggest makerspace.
"It is a part of the global maker community. Makers combine traditional materials like wood, metal and textile with new technology like sensors, conductive thread or 3D printing filament. I also see code as a material."
Space for creativity
Technology development has made advanced industrial machines like laser cutters and 3D printers smaller, cheaper and more available. In makerspaces, people gather around machines and share knowledge beyond socialising.
"Interactive artwork, a customized scooter, a radio built from DIY parts, a skirt with programmable led lights or a welded chair… All sorts of creative projects happen at the same time. There is space to co-exist. And many makers explore different kinds of crafts", says Sophie Landwehr Sydow.
There is space to co-exist
Her studies show that the social aspect is very important. For the past years, she has spent many long hours at "her" makerspace, combining an ethnographic approach with participant observation and various design methods.
Landwehr Sydow has built stuff, watched and listened to other makers, and held workshops to contribute with her knowledge to the community. She has developed three key concept to describe the interactions between makers, materials and machines (see box below).
3 important concepts
In her research, Sophie Landwehr Sydow coins three concepts to define how the maker movement works. She sees them as her biggest contribution to theory.
1. Material literacy. With deep knowledge about raw materials, components and production processes, makers get information by studying artefacts in-depth. "They can read things in the same way we read books", says Sophie Landwehr Sydow.
2. Machine sensibility. It's easy to think that you just need to push a button and the machine does the work. But Sophie Landwehr Sydow shows that it takes experience and sensibility to make good use of a 3D printer. "A lot happens in the interplay between makers, machines and materials", she says.
3. The pliable machine. In the gaming world, it's very common to "mod" – which means to modify things in the game. Modding is also a central activity in the maker world. "In the hands of a maker, a machine that might seem static is pliable and can be changed. It's an ongoing process", says Sophie Landwehr Sydow.
Maker pedagogy in preschools
Since the big hype around the maker movement some years ago, the enthusiasm has faded a bit. But the movement has also developed. Museums and libraries organize pop-up makerspaces, and the maker pedagogy has also found its way to schools and preschools. Landwehr Sydow believes it has a lot to offer there. In one of the papers in her thesis, she studies a preschool in Sundbyberg outside Stockholm, where staff was trained in maker pedagogy.
"The new Swedish curriculum states that children should have adequate digital competence, already in preschool. I think that a maker mindset might be a good starting point. It could decrease the fear of new technology and build curiosity towards exploring new materials in a preschool context", explains Sophie Landwehr Sydow.
Sustainable creation
She describes how makers interact with both machines and materials in a thoughtful and knowledgeable way. They are reflecting, allowing and playful. Landwehr Sydow thinks there are important lessons to be learned from makers.
"The tech industry expects us to upgrade by buying new products and throwing away the old. The maker movement can be a role model in this."
Landwehr Sydow stresses that we have to become better at seeing the potential in the things we already have, updating and rebuilding it. Concepts like resourcefulness and topics around sustainability were not in her original plan for the PhD thesis, but they have grown in importance during the process.
Makers could meet the needs when the industry was unable
The pandemic also put local maker networks to test – demonstrating that they can be very useful to society.
"When healthcare lacked protective visors, makers reacted quickly. They had the knowledge, tools, materials and logistics needed. They joined forces and started a 24-hour production facility. Makers could meet the needs when the industry was unable", says Sophie Landwehr Sydow.
More about Sophie's research
Sophie Landwehr Sydow presented her PhD thesis at the Department of Computer and Systems Sciences (DSV), Stockholm University.
The public defence took place October 21, 2022, in Lilla hörsalen, Borgarfjordsgatan 12, Campus Kista.
The title of the PhD thesis is "Makers, Materials and Machines: Understanding Experience and Situated Embodied Practice in the Makerspace". It builds on five papers.
Landwehr Sydow's thesis can be downloaded from Diva
The thesis belongs to the research subject Human–Computer Interaction (HCI) within Computer and Systems Sciences
Supervisors were associate professors Jakob Tholander, Stockholm University, Martin Jonsson, Södertörn University, and Maria Normark, Södertörn University. Professor Alexandra Weilenmann, University of Gothenburg, was the opponent at the public defence.
Snapshots from a makerspace. Photos from Sophie Landwehr Sydow's PhD thesis.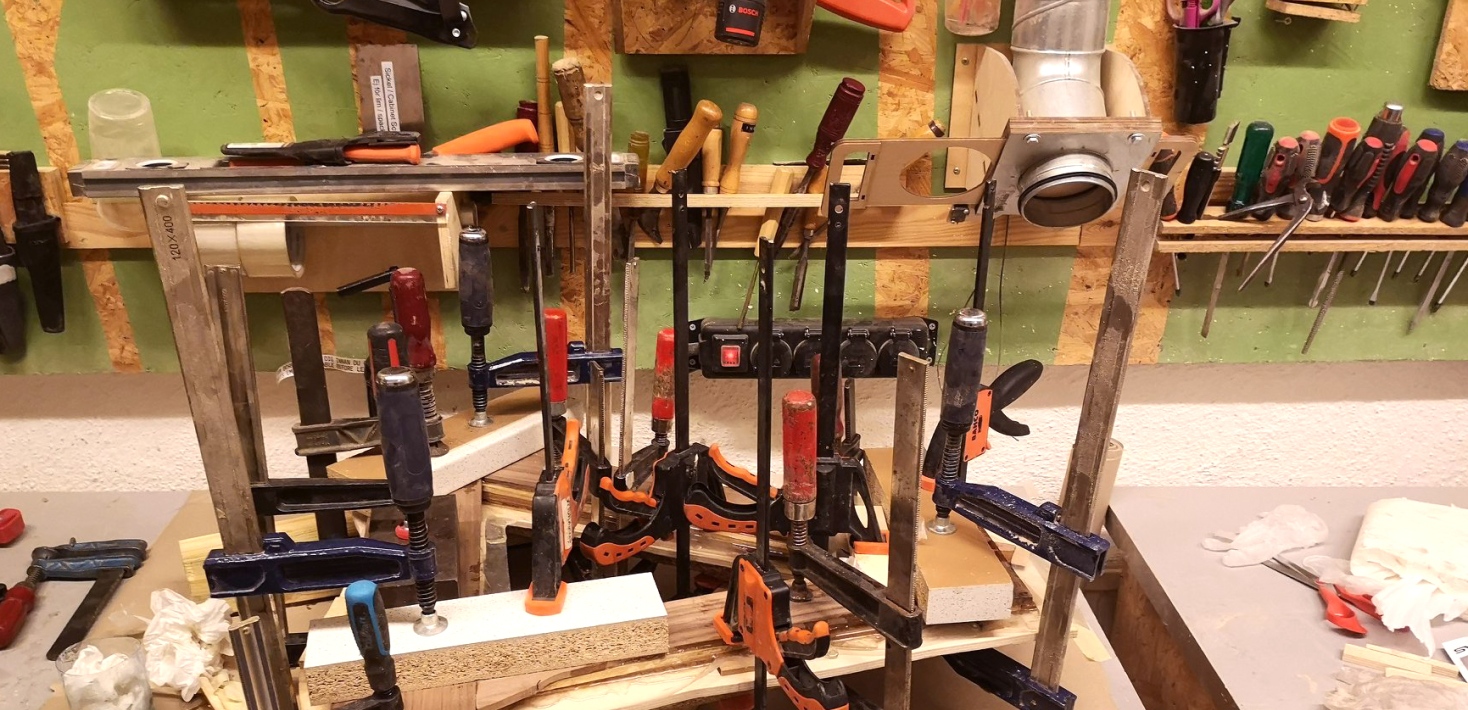 Last updated: October 31, 2022
Source: Department of Computer and Systems Sciences, DSV