"Woke" Authenticity in Brand Culture
Jonatan Södergren defended his thesis "Woke" Authenticity in Brand Culture: A Patchwork Ethnography at Stockholm Business School February 1st.
Jonatan has studied both Bachelor's and Master's degrees in marketing at the department, before he started the PhD programme. During a period when he was writing his thesis, he was a visiting scholar the Department of Sociology at the Katholieke Universiteit Leuven in Belgium.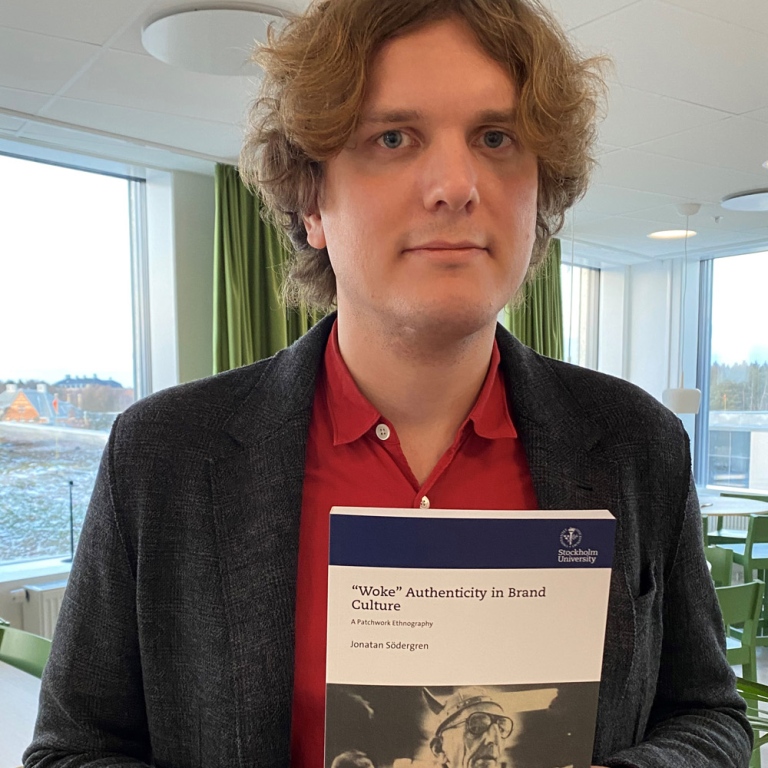 How did you choose your subject for the thesis?
My Master's thesis addressed the topic of paradox in consumers' identity projects. I conducted phenomenological interviews with my informants and asked them to tell me about scenarios when the paradox enabled consumption. For someone, it was to be both careful and carefree. Someone else told me about their strive for uniqueness, while in that aspiration, they felt nostalgia for safer and more communal times. The title was "Being and Consumption".
I think Joel Hietanen, who supervised my Master's thesis, introduced me to the concept of authenticity. First, I was interested in Heidegger and authenticity from a more existential perspective. I grew more interested in linguistics and the intersection of brand management, marketing communications, and consumer culture.
Finally, I arrived at my concept of "woke" authenticity and how brands can have a transformative effect on society and cultural ideologies through their campaigns.
Can you tell us about the conclusions you made in your thesis?
I propose a theoretical framework, a so-called circuit, for how ideological marketing campaigns (1) come to project authenticity in practice, which benefits the brand as failure to project authenticity can lead to backlash, while (2) still having a transformative effect on society.
With ideological marketing campaigns, I mean ads whose authenticity stems from a political statement such as supporting Black Lives Matter.
Last updated: February 7, 2022
Source: SBS