ERC Starting Grant to Abraham Mendoza
Abraham Mendoza at the Department of Organic Chemistry, Stockholm University, has been awarded an ERC Starting Grant of up to 1.5 million euro over five years. His research project will seek ways to accelerate the transformation of simple materials into tailor-made complex molecules.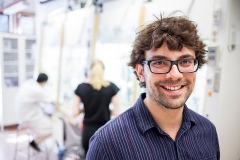 The European Research Council (ERC) has a number of funding schemes. The aim of the ERC Starting Grant is to encourage young talented research leaders to gain independence in Europe and to build their own careers.
Abraham Mendoza's research project "Automatized Catalysis and Single-Carbon Insertion" aims to enable strategic technologies to accelerate and automatize the transformation of simple molecules into complex functional molecules that are commonly used as medicines, catalysts, displays and biological research.
"I am thrilled about the new horizons that we can explore with this support to make a big impact in the way we think and execute synthesis for the benefit of Society at large", Abraham Mendoza says.