Virtual spiders treat phobias
Crawling spiders with hairy legs are scary to many people. Despite the fact that we do not have any dangerous spiders in Sweden, this is the most common animal phobia. When the phobia becomes so strong that it affects your daily life, it may be time to seek help. In traditional CBT, the participant, under the supervision of a therapist, is gradually exposed to a real spider under controlled conditions. In a current study at the Department of Psychology, half of the participants are randomly selected to undergo treatment in virtual reality in an effort to see if this treatment is just as effective.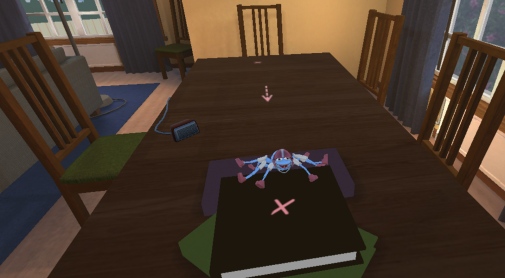 Mårten Michanek has been afraid of spiders since he was a child.
"I remember an experience where I woke up with a spider crawling on my pillow. I think I have had a fear of spiders ever since. There have been times when I have woken up in a panic from nightmares about spiders. My partner thought it was time to seek help, so I received a gift card for a CBT treatment. It seemed like the world's worst birthday present. CBT with real spiders has a problem in terms of marketing; I cannot imagine that it would feel calm. Virtual reality feels better for me, so I contacted the Department of Psychology," he says.
Starts with cartoon spider
Philip Lindner, PTP psychologist and doctoral student, introduces Mårten to the treatment. The instructions are then given by a virtual therapist. The program consists of a game in which contact with the spider increases gradually. It starts with a cartoon spider that gradually becomes more realistic. The participant is given tasks that involve helping Bitsy, the virtual spider. "Control the environment with your eyes. Now that you are familiar with your new reality, what is the worst that could happen if you came in contact with a spider," says the voice and speaks pedagogically about how anxiety works and provides facts about spiders.
"It is just a cartoon, but I know that it is going to move. It is quite a relief not to have a body when I look down," says Mårten Michanek inside a reality that the rest of us in the room cannot see.
At level three, the spider starts to look a little more real.
"It feels good so far. I am still a little paranoid, something disgusting is coming. But I have faith in the process and find that I have less anxiety."
Advertised for spiders
The study garnered quite a bit of attention when project leader Per Carlbring advertised on Blocket to find spiders. He heard from a lot of people who wanted to get rid of the spiders in their basements. The real jackpot was found at a waste-water treatment plant. The psychologists brought over 20 spiders to the therapy for the participants who were randomly selected to meet real spiders.
"We are now doing follow-ups on the participants' arachnophobia. The preliminary findings indicate that both groups have reduced their anxiety, but we will not know the results until a year from now. The level of imagination and preconceived notions about what will work might affect the efficacy of the therapy," says Philip Lindner.