We lose about 30 minutes of sleep each night of the working week, new study shows
For many of us, work often competes for time with sleep – which is why many of us look forward to the weekend for a chance to "catch up" on sleep. But how much sleep is lost on days when we work? Johanna Garefelt at Stockholm University shares her latest research in a new article in The Conversation.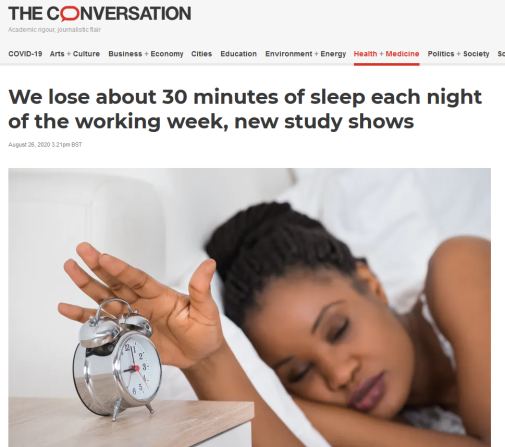 The article is published on August 26 and is written by Johanna Garefelt, PhD Candidate in Public Health at the Stress Research Institute, Stockholm University.
The research team followed 100 people aged from 60 to 71 over two years, covering their transition into retirement.
She writes: "The amount of sleep people tended to get on their weekends while still in work seemed to be their preferred sleep duration, rather than "catch-up" sleep. If weekend sleep was prolonged to compensate for the working week's sleep loss, we would have expected a drop after retirement (when there's no sleep loss to compensate for) – but we found this wasn't the case."
Read the article published in The Conversation:
https://theconversation.com/we-lose-about-30-minutes-of-sleep-each-night-of-the-working-week-new-study-shows-144890
Read more about the collaboration between Stockholm University and The Conversation and how to pitch an article idea: https://www.su.se/english/staff/services/information-communication/pitch-an-article-idea-for-the-conversation-1.462268
More articles in The Conversation by researchers at Stockholm University: https://theconversation.com/institutions/stockholm-university-1019