Gå till denna sida på svenska webben
Marine microbial ecology: from genomes to biomes
Have you ever wondered why the ocean is blue? How life evolved? How elements cycle in the sea? Or maybe, why the ocean buffers our human activities? This course aims to tackle these questions and much more. The course will cover broadly aquatic microbial diversity and the role of microbes in the environment.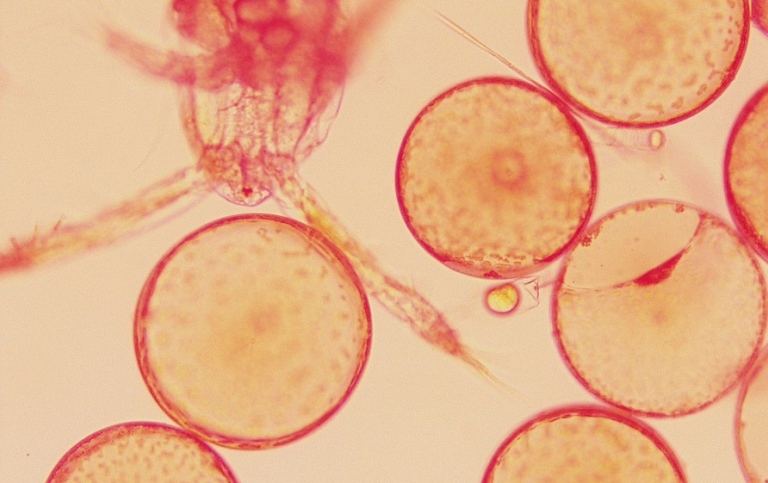 Light micrograph of plankton by course coordinator, Rachel A Foster
This course is designed to cover broadly aquatic microbial diversity and role of microbes in the environment. Environments include aquatic, benthic (sediments), and microbiomes. Microbial populations include representatives from the three domains of life: Archaea, Bacteria, Eukarya. The diverse nature of microbial populations will be studied and includes the morphology, genetic, and metabolic diversity. Additionally, a review of both classical and modern methods utilized in studying aquatic microbial ecology will be presented in case study examples and laboratory exercises. An emphasis on understanding the limitations, caveats, and necessary controls for methods will be covered.
Both theory and practical exercises cover the most recent findings of the field while also providing practical hands on experience and training in classic and modern approaches.
Teaching format

The education for the course consists of lectures, weekly guest research talks from international experts in the field, in class discussion exercises, tutorials, lab exercises, and independent reading.

Learning outcomes

A list of the learning outcomes can be found in the syllabus. Please find the link to the syllabus on the right side of this page.

Assessment

Examination includes: quizzes, oral paper presentations, lab exercises including occasional written lab reports, class and tutorial participation, guest research talks from international experts and discussions, and 2 written exams.

Examiner

Rachel Foster

E-mail: rachel.foster@su.se

Sarahi Garcia

E-mail: sarahi.garcia@su.se

The schedule will be available no later than one month before the start of the course. We do not recommend print-outs as changes can occur. At the start of the course, your department will advise where you can find your schedule during the course.

Note that the course literature can be changed up to two months before the start of the course.

There is no textbook for the course. Suggested and required readings will be listed on the course website on Athena and should be read prior to the lecture. Other suggested readings include the online book: Gasol and Kirchman 2018 Microbial Ecology of the Oceans 3rd Edition.

These are not assigned but useful as a reference:

Brock Biology of Microorganisms, 15th Edition, Michael T Madigan et al.

Marine Microbiology Ecology & Applications, 2nd edition, Colin Munn

Student office

Visiting address

Arrheniuslaboratory, room E315

Svante Arrhenius väg 20C

Office hours

Mon-Thur: 10.00-15.00 (closed for lunch 12.30-13.30)

Fri: 10.00-12.30

Irregular office hours

Staff meeting May 15th CLOSED before lunch

Study counsellor for advanced level

Visiting address

Arrheniuslaboratoriet, room E315

Svante Arrhenius väg 20 C