Gå till denna sida på svenska webben
Marine animal physiology
In this course you will ponder the amazing array of strategies used by marine organisms to meet the challenges imposed by their physical environment. The major focus is to discuss unique, and often bizarre, physiological and morphological adaptive solutions to problems encountered by animals living in marine environments.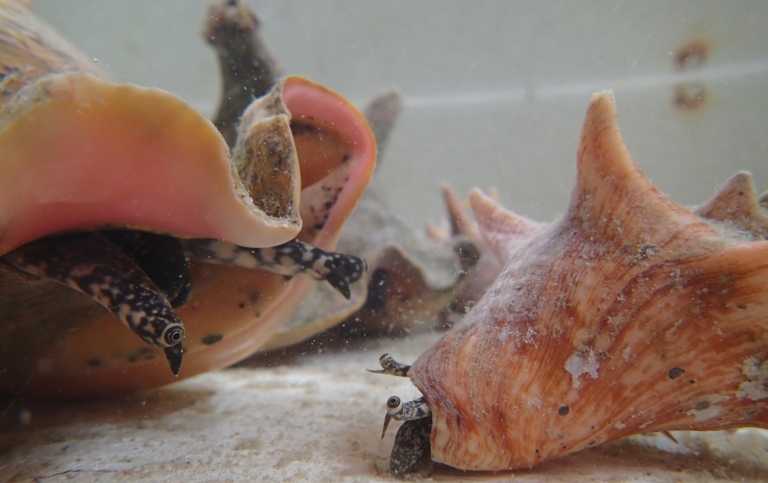 Queen conchs. Photo: Valentina Di Santo
The course is an exciting comparative look at how natural selection produces the extraordinary adaptations seen in marine animals, and how these may fare under climate change.
This course emphasizes how integrating evolution, ecology and physiology allows understanding of evolutionary history of organisms and forecast of future responses to synergistic environmental stressors. You will explore physiological and morphological adaptive solutions to oxygen, temperature, water balance, buoyancy, locomotion, feeding and sensory problems in marine animals. This course will include lectures, discussions of primary literature, and group projects. The group projects will focus on eco-physiological and biomechanical lab experiments using marine organisms (fishes and invertebrates). Students will collect, analyze and present data in a manuscript as well as in a presentation during a mini-symposium.

Modules

The course consists of two parts:

Part 1. Theory, 10 hp

Part 2. Laboratory projects, 5 hp

Teaching format

This course includes lectures, group discussions, presentations and projects.

Learning outcomes

A list of the learning outcomes can be found in the syllabus. Please find the link to the syllabus on the right side of this page.

Assessment

You will be assessed based on your research project and manuscript, presentations, discussions and weekly quizzes based on readings.

Examiner

Valentina Di Santo

E-mail: valentina.disanto@zoologi.su.se

The schedule will be available no later than one month before the start of the course. We do not recommend print-outs as changes can occur. At the start of the course, your department will advise where you can find your schedule during the course.

Note that the course literature can be changed up to two months before the start of the course.

No mandatory course book.

After the course

Students in my course have the possibility to discuss continuing the project started during class in my lab. Read more about the Di Santo Lab here: www.valentinadisanto.com

Student office

Visiting address

Arrheniuslaboratory, E315

Svante Arrhenius väg 20C

Contact us for help with:

-registration

-exams

-certificates

-much more

Office hours

Mon-Wed: 10.00-15.00 (lunch 12.30-13.30)

Thur-Fri: 10.00-12.30

Irregular office hours

Summer opening hours

June 27th - August 19th

10.00 - 12.00 Monday- Thursday (closed Fridays)

Study counsellor (advanced level)

Visiting address

Arrheniuslaboratoriet, E 315c

Svante Arrhenius väg 20 C

Contact me if you want:

-help choosing courses

-to discuss career paths

-have problems with your studies

Office hours

Enligt överenskommelse