Gå till denna sida på svenska webben
Psycholinguistic Aspects of Bilingualism
The course aims to provide knowledge about bilingualism from a psycholinguistic, neurolinguistic, and cognitive perspective. The course focuses on some of the most central issues in the field of bilingualism from a psycho- and neuro-linguistic perspective.
Information for admitted students Spring 2022
Congratulations! You have been admitted at Stockholm University and we hope that you will enjoy your studies with us.
In order to ensure that your studies begin as smoothly as possible we have compiled a short checklist for the beginning of the semester.
Follow the instructions on wether you have to reply to your offer or not.
universityadmissions.se
Checklist for admitted students
Activate your university account

The first step in being able to register and gain access to all the university's IT services.

Register at your department

Registration can be done in different ways. Read the instructions from your department below.

Read all the information on this page

Here you will find what you need to know before your course or programme starts.
IMPORTANT
Your seat may be withdrawn if you do not register according to the instructions provided by your department.
Information from the department - courses
Welcome to the Department for Swedish Language and Multilingualism (Svefler). Once you have been admitted to an education with us, you will receive an email from one of our Student counsellors or Course administrators.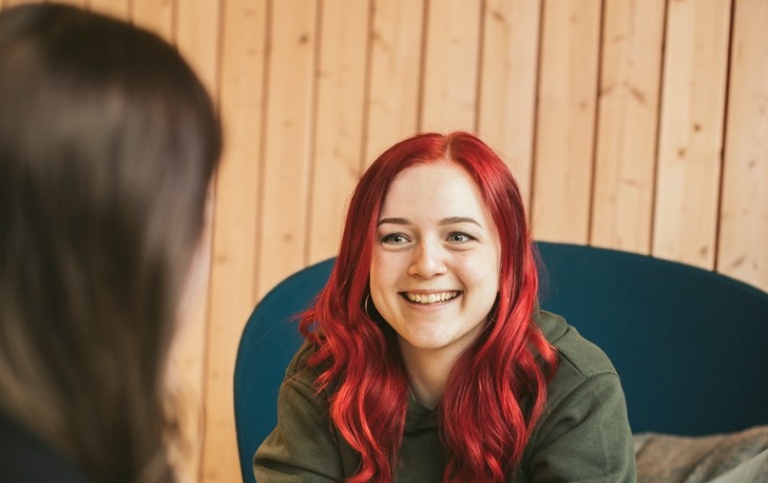 Photo: Niklas Björling
In the email, you will receive information needed before the course starts. We usually email you after the first admission, and after the second admission if you are newly admitted then.
Have you not received an email?
We email the email address you have registered on antagning.se.
Have you checked your spam box?
Have you registered the correct email address? Check your account on antagning.se.
antagning.se
Do you need help? Contact the Student counselor or Course administrator – contact information can be found further down on this course page under Contact.
Register online and last registration day
Usually you need to register online, and you have to register on time to confirm and keep your place. Please see the email from the Student counsellor or Course administrator.
To be able to register:
Web-based teaching digitally in Zoom
Teaching at our Department mostly takes place digitally during the first half of the spring semester 2021. There will only be a few occasions with teaching and examination on campus. Please read our FAQ: Questions and answers (Svefler's website):
Both distance and campus teaching at the Department autumn 2020 and spring 2021. FAQ
Our teachers use the e-meeting service Zoom for lectures and seminars. Familiarize yourself with Zoom before it's time for your first seminar, it's free for students at Stockholm University.
Course site in the e-learning platform Athena
We use the e-learning platform Athena for communication within our courses. Each course has its own course site where teachers will make relevant material available at the start of the course. You will access Athena after you have registered.
Welcome activities
Stockholm University organises a series of welcome activities that stretch over a few weeks at the beginning of each semester. The programme is voluntary (attendance is optional) and includes Arrival Service at the airport and an Orientation Day, see more details about these events below.
Your department may also organise activities for welcoming international students. More information will be provided by your specific department.
---
Find your way on campus
Stockholm University's main campus is in the Frescati area, north of the city centre. While most of our departments and offices are located here, there are also campus areas in other parts of the city.
---
Read more
---
For new international students
Examples of the issues the course focuses on include the role of age of acquisition, the question of ultimate attainment, the role of cross-linguistic influence, and individual differences. These questions will be addressed in light of current theoretical models of bilingual language representation and processing. The course also explores the relationship between language and cognition.
The course aims to provide knowledge about bilingualism and multilingualism at individual level from a psychological, neurolinguistic and cognitive perspective. Here the course covers models for bilingual language storage and language processing, and these are studied in the light of phenomena such as second language acquisition/learning, language choice, language separation, language loss (attrition) and language pathological phenomena (e.g. aphasia and dementia), learning age, maturity restrictions and critical period (s), as well as individual factors such as language aptitude and motivation. Cognition and bilingualism are treated with respect to the relationship between language and thought, conceptual transfer, and general cognitive skills (such as executive control).
After a completed course, you will be able to:

Discuss and problematize the basic concepts of psycho- and neurolinguistics from a learning and bilingualism perspective
Describe some of the most relevant factors that influence bilingualism/second language acquisition and discuss these critically from a psycho- and neurolinguistic perspective (e.g., role of age in bilingualism, bilingual language activation, the bilingual lexicon, etc.)
Describe and critically discuss individual differences in second language acquisition
Describe and discuss models of language processing and development in bilinguals and second language learners, including theoretical models about the neurological correlates of the phenomena concerned (in terms of brain areas and brain responses)
Describe and critically discuss some of the evidence concerning the relationship between bilingualism and cognition.

Assessment

See the Syllabus.

Examiner

The pdf is in Swedish, but you can search the course by the course code.

VT22 Examinatorer Institutionen för svenska och flerspråkighet (683 Kb)

The schedule will be available no later than one month before the start of the course. We do not recommend print-outs as changes can occur. At the start of the course, your department will advise where you can find your schedule during the course.

Note that the course literature can be changed up to two months before the start of the course.

Study counselling/Course administration – BILINGUALISM

Visiting address

Building D, Södra huset

Room D 466, Floor 4

Universitetsvägen 10 D

Office hours

Visiting hours by agreement (by email).

Phone hours

Monday 11–12

Thursday 11–12