Gå till denna sida på svenska webben
Basics of Geochemistry
The course introduces basics concepts in geochemistry with the aim to explain and understand geological processes and the distribution of elements.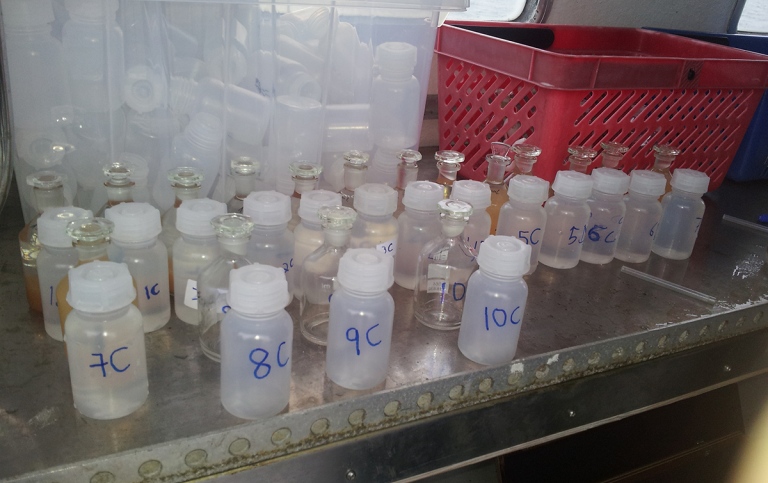 Subjects in the course cover the chemical and isotopic composition of the Earth and the solar system, the geochemistry of important gases such as oxygen and carbon dioxide, as well as the behavior of acids, bases, buffers, and redox processes in natural waters. The course also includes an introduction of organic geochemistry. The course consists of lectures, theoretical exercises, and laboratory exercises.
Course period Spring 2022: March 22–May 1 (incorrect study period in the right column).
Assessment

– Knowledge assessment and examination are in the form of written examinations.
– Grades will be set according to a seven-point scale related to the learning objectives of the course:
A = Excellent
B = Very good
C = Good
D = Satisfactory
E = Adequate
Fx = Fail, some additional work required
F = Fail, much additional work required

– The grading criteria will be distributed at the beginning of the course.
– In order to pass the course, students must receive the minimum passing grade E on all course units and
participate in all mandatory instruction.
– Students who receive a failing grade on a regular examination are allowed to retake the examination as long as the course is still provided. The number of examination opportunities is not limited. Other mandatory course elements are equated with examinations. A student who has received a passing grade on an
examination may not retake the examination to attain a higher grade. A student who has failed the same examination twice is entitled to have another examiner appointed, unless there are special reasons to the contrary. Such requests should be made to the department board. The course has at least two examination
sessions per academic year the year of tuition given. Intermediate years are given at least one examination.
– There is no facility to improve the grade Fx to a pass grade in this course.

The schedule will be available no later than one month before the start of the course. We do not recommend print-outs as changes can occur. At the start of the course, your department will advise where you can find your schedule during the course.

Senior lecturer, Biogeochemistry
Volker Brüchert
volker.bruchert@geo.su.se
+46 (0)8 16 47 55 | Room: R307