Gå till denna sida på svenska webben
Field Study in the Geological Sciences
The course focuses 100 % on mapping with a heavy field component that is also reflected in the grading scheme (see the schedule).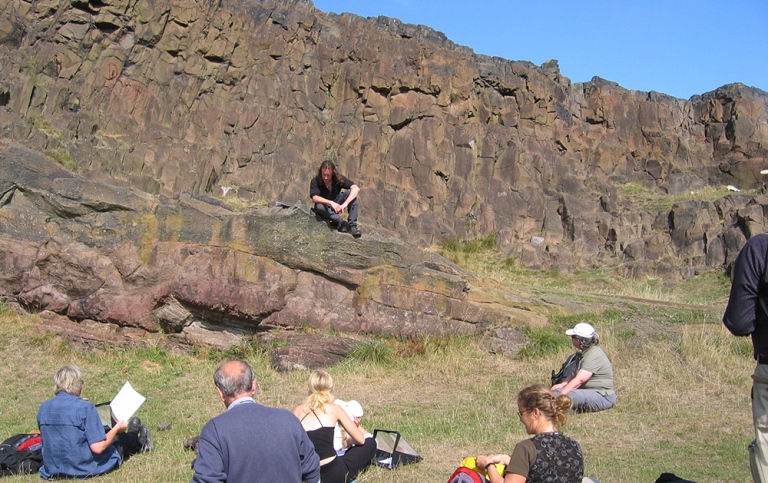 Subjects of focus include:
Keeping project purpose central when designing a mapping strategy
Different approaches to mapping
Project setup and Logistics including target generation, GIS skills, field databases, and digital mapping platforms
Observation techniques – sketching, rock identifying, structural and other measurements
Interpretation of mapped data
Map compilation – drawing boundaries, interpretation, etc.
Reporting
Sampling and record keeping are emphasized and graded.

Course period Spring 2022: May 2–June 3 (incorrect study period in the right column).
All lectures will be given on campus and recorded in Zoom.

Lecture attendance on campus or via Zoom is compulsory except for extenuating circumstances.

Fieldwork is compulsory unless the student is ill. All fieldwork is in relatively easy terrain. Inability to produce maps or reports due to absence of fieldwork may be replaced by alternative projects only in extreme circumstances.

If lecture and fieldwork are scheduled on the same day, there is an hour between them for travel.

There will be several half to 1 day excursions around Stockholm (all accessible by public transport) and the final course field project will be near Arlanda airport.

All field work will be done with proper social distancing outdoors and protective equipment.

The course leaders will lead you through the stratigraphy and rock identification of different project areas and teach you how to make observations, create a geological map and write a geological report for an area. After that introduction to the area, students will map nearby areas on their own or in small groups to produce a map and report for projects 2 and 3. The instructors will be supervising each mapping group by checking in on them daily.

Assessment

Course grades will be based on the individually written maps and project
reports and on sampling. See the schedule for more details. For assignments that are submitted after the given deadlines, grades will be reduced by 5%/day down to 55%.

Grades will be set according to a seven-point scale related to the learning objectives of the course:
A = Excellent (100–91%)
B= Very good (90–81%)
C = Good (80–71%)
D = Satisfactory (70–61%)
E = Adequate (60–51%)
Fx = Fail, some additional work required (50–45%)
F = Fail, much additional work required (<45%)

Examiner

This course is taught by Paul Evins Paul Evins (paul.evins@wsp.com), Joakim Mansfeld (joakim.mansfeld@geo.su.se) and Iain Pitcairn (iain.pitcairn@geo.su.se)

The schedule will be available no later than one month before the start of the course. We do not recommend print-outs as changes can occur. At the start of the course, your department will advise where you can find your schedule during the course.

Note that the course literature can be changed up to two months before the start of the course.

Relevant literature will be supplied during the course.

Course administrator:

Senior lecturer, docent, Ore geology
Iain Pitcairn
iain.pitcairn@geo.su.se
+46 (0)8 674 78 38 | Room: R431