Gå till denna sida på svenska webben
Applied Geology
In this course, you will learn how to design, conduct and present relevant geological field studies to support recommendations for solving typical problems encountered by clients/stakeholders.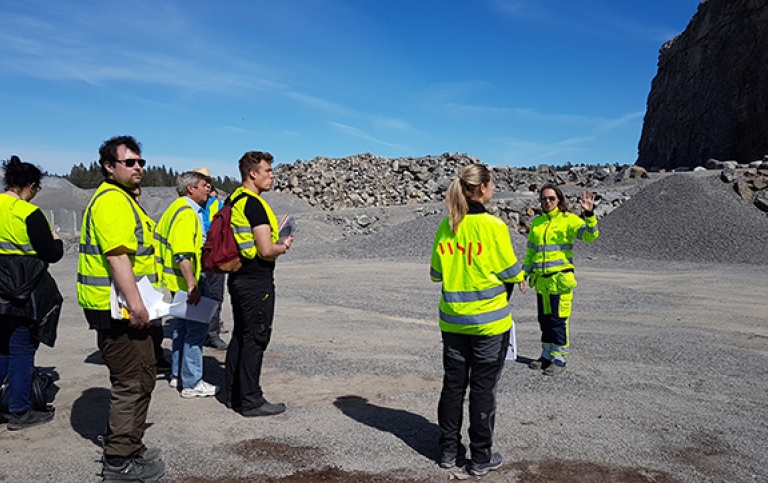 You will learn how to present recommendations in a manner that provides the reader with the information necessary for cost calculations and risk management. The types of projects addressed in the course include building foundations, tunnelling, slope stability, mining, aggregates, underground repositories and bedrock contamination.
Course period Autumn 2021: August 30–September 29 (incorrect study period in the right column).
Field trip will be done in and around Stockholm
Autumn term 21 | Depending on the number of students and current restrictions, the course will either be given "as usual" or with lectures via Zoom and exercises on as many occasions as needed to be able to work in smaller groups. The information will be updated before the start of the course depending on the situation at that time.

GG8020 course information (168 Kb)
Teaching format

Project reports

You will work with three projects during the course. These correspond to a total of 65 % of your examination mark. Each project has to be presented as concise, written reports following the outlines shown below.

Project 1 – Site investigation Plan (5%) and Tender (5%) – deadline for submitting: Friday September 4th at midnight.

Project 2 – Foundations, slope stability, industrial minerals, radon, sulphides, XRF (15%) – deadline for submitting: Friday September 18th at midnight .

Project 3 – Geotechnical Baseline Report – New Subway- Solna industrial area (40%) – deadline for submitting: Tuesday September 29th at midnight.

Fieldwork

The fieldwork for projects 1–3 will be done in and around Stockholm.

In addition to the fieldwork, daily structural measurements are required of the students and submitted via Google Drive or Athena.

These structural measurements will make up 10% of your examination mark. A written exam will be given in the middle of the course after all the informative lectures and will make up 15% of your examination mark. A drill core mapping test will also be given near the end of the course and will make up 10% of your examination mark.

Examiner

Course grades will be based on the three individually written project reports, the drill core mapping and written exams and test daily structural measurements.

Specific criteria for assessing the project reports are: (i) date of submission; for assignments that are submitted after the given deadlines, grades will be reduced by 5%/day; (ii) content, conciseness, clarity and presentation of the written report; deductions for risky/sloppy language will be made in project 3.

Grading will follow the grading scheme shown below.

Forms of examination

a. Knowledge assessment and examination are in the form of individually written reports, daily structural measurements, a drill core mapping test, and a written exam.

b. Grades will be set according to a seven-point scale related to the learning objectives of the course:
A = Excellent (100–91%)
B= Very good (90–81%)
C = Good (80–71%)
D = Satisfactory (70–61%)
E = Adequate (60–51%)
Fx = Fail, some additional work required (50–45%)
F = Fail, much additional work required (<45%).

c. The grading criteria will be distributed at the beginning of the course.

d. In order to pass the course, students must receive the minimum passing grade E on all course units and participate in all mandatory instruction.

e. Students who receive a failing grade on a regular examination are allowed to retake the examination as long as the course is still provided. The number of examination opportunities is not limited. Other mandatory course elements are equated with examinations. A student who has received a passing grade on an examination may not retake the examination to attain a higher grade. A student who has failed the same examination twice is entitled to have another examiner appointed, unless there are special reasons to the contrary. Such requests should be made to the department board.

f. There is no facility to improve the grade Fx to a pass grade in this course.

The schedule will be available no later than one month before the start of the course. We do not recommend print-outs as changes can occur. At the start of the course, your department will advise where you can find your schedule during the course.

GG8020 course information (168 Kb)

Note that the course literature can be changed up to two months before the start of the course.

The course literature consists of current scientific articles on the subject.

Course evaluations allow the possibility to affect and take responsibility for your own learning and gives important information for our work with pedagogical development.

It's important that all students complete the course evaluations after each course, it gives the Department the opportunity to improve the courses' quality.

The course evaluation is composed of a number of questions and specific questions for each course. If you, as a student, want to contribute with more course specific questions you may send them to studies@geo.su.se.

If you haven't received the course evaluation for your finished course, or if you have other questions regarding course evaluations at IGV please contact studies@geo.su.se.

Course evaluation = student's review of the course
Course report = course leader's reflections about the review

Course administrator: Paul Evins (paul.evins@wsp.com)

Richard Gyllencreutz (Richard.Gyllencreutz@geo.su.se)
Joakim Mansfeld (joakim.mansfeld@geo.su.se)
Barbara Wohlfarth (Barbara.wohlfarth@geo.su.se)