Gå till denna sida på svenska webben
Master's Programme in Language Science with a Specialisation in Scandinavian Languages
The programme aims at extending and deepening your knowledge in Scandinavian Languages. It also strengthens your grasp of research methodology, research ethics and your ability to carry out scientific reasoning.
Information for admitted students Autumn 2020
Congratulations! You have been admitted at Stockholm University and we hope that you will enjoy your studies with us.
In order to ensure that your studies begin as smoothly as possible we have compiled a short checklist for the beginning of the semester.
Follow the instructions on wether you have to reply to your offer or not.
universityadmissions.se
Checklist for admitted students
Activate your university account

The first step in being able to register and gain access to all the university's IT services.

Register at your department

Registration can be done in different ways. Read the instructions from your department below.

Read all the information on this page

Here you will find what you need to know before your course or programme starts.
IMPORTANT
Your seat may be withdrawn if you do not register according to the instructions provided by your department.
Information from the department - programmes
Welcome to the Master's Programme in Language Science! In the end of July, we will send you a welcome letter with more information about the semester start.
Registration
All students at Stockholm University must register prior to every semester. For students admitted to the Master's Programme in Language Science, registration will be available in conjunction to the information meeting, August 28th.
Note! If you are conditionally accepted to the programme, we need to see the required documents in order to verify your eligibility.
Education online Autumn 2020
Due to the corona situation the first two obligatory courses, Language in Use and Scientific Methods and Research Ethics, offered during the first period of the autumn semester 2020, will be conducted online.
Contact
You will find contact details and more information on our website ling.su.se/english
Welcome activities
Stockholm University organises a series of welcome activities that stretch over a few weeks at the beginning of each semester. The programme is voluntary (attendance is optional) and includes Arrival Service at the airport and an Orientation Day, see more details about these events below.
Your department may also organise activities for welcoming international students. More information will be provided by your specific department.
---
Find your way on campus
Stockholm University's main campus is in the Frescati area, north of the city centre. While most of our departments and offices are located here, there are also campus areas in other parts of the city.
---
Read more
---
For new international students
This specialisation of the Master's Programme in Linguistics will deepen your knowledge of linguistics and Scandinavian Languages. You will choose the area and courses for your linguistic specialisation, connected to the Department's actual, ongoing research. In addition, you will take the faculty-wide courses which are obligatory in the Linguistics programme.
Within the Master's Programme in Language Science, the students will deepen and expand their knowledge in the field of the selected study route. The emphasis varies between specialisations, and may focus, for example, on pragmatics, language history, language documentation or grammar. Importance is also given to
the students' development in terms of scientific approach, independent analysis, and skills in presenting their work orally as well as in writing.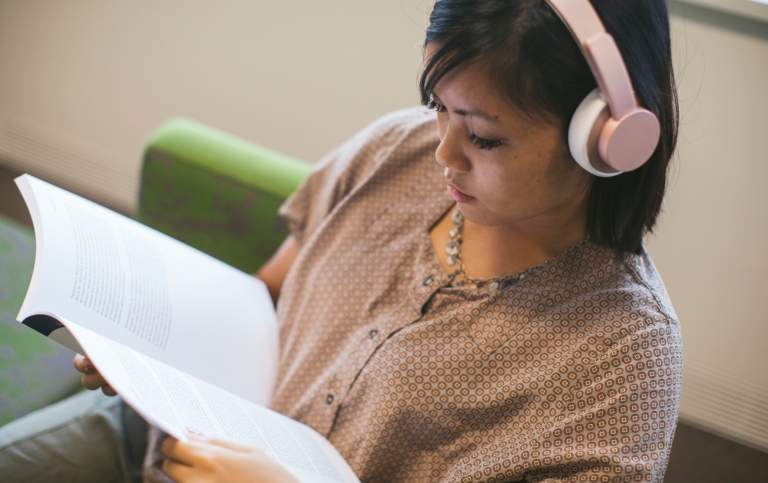 Foto: Niklas Björling
Year 1

Semester 1

Language in Use, 7.5 ECTS credits
Scientific Methods and Research Ethics, 7.5 ECTS credits
Elective courses amounting to 15 ECTS credits

Semester 2

Scandinavian Languages Historical Profile - Magister Course, 15 ECTS credits
Elective courses amounting to 15 ECTS credits

Of the elective courses in semesters 1 and 2, two courses of each 7.5 ECTS credits must be in the main field of Scandinavian Languages. The topic of the second course is to be a progression of that of the first course. The courses are selected from those offered by the main field department in consultation with the programme
coordinator

Year 2

Semester 3

A skill training course of 7.5 ECTS credits
English for Academic Research, ECTS 7.5 ECTS credits
Elective courses amounting to 15 ECTS credits
The courses are selected from those offered by the main field department in consultation with the programme coordinator.

Semester 4

Scandinavian Languages with a Historical Profile – Master's Thesis, 30 ECTS credits

Coordinator for specialisation in Scandinavian Languages

Josefine Berg, Student Counsellor
josefine.berg@su.se