Gå till denna sida på svenska webben
Special Education, Disability and Learning
Information for admitted students Spring 2021
Congratulations! You have been admitted at Stockholm University and we hope that you will enjoy your studies with us.
In order to ensure that your studies begin as smoothly as possible we have compiled a short checklist for the beginning of the semester.
Follow the instructions on wether you have to reply to your offer or not.
universityadmissions.se
Checklist for admitted students
Activate your university account

The first step in being able to register and gain access to all the university's IT services.

Register at your department

Registration can be done in different ways. Read the instructions from your department below.

Read all the information on this page

Here you will find what you need to know before your course or programme starts.
IMPORTANT
Your seat may be withdrawn if you do not register according to the instructions provided by your department.
Information from your department
On this page you will shortly find information on registration, learning platform, etc.
Welcome activities
Stockholm University organises a series of welcome activities that stretch over a few weeks at the beginning of each semester. The programme is voluntary (attendance is optional) and includes Arrival Service at the airport and an Orientation Day, see more details about these events below.
Your department may also organise activities for welcoming international students. More information will be provided by your specific department.
---
Find your way on campus
Stockholm University's main campus is in the Frescati area, north of the city centre. While most of our departments and offices are located here, there are also campus areas in other parts of the city.
---
Read more
---
For new international students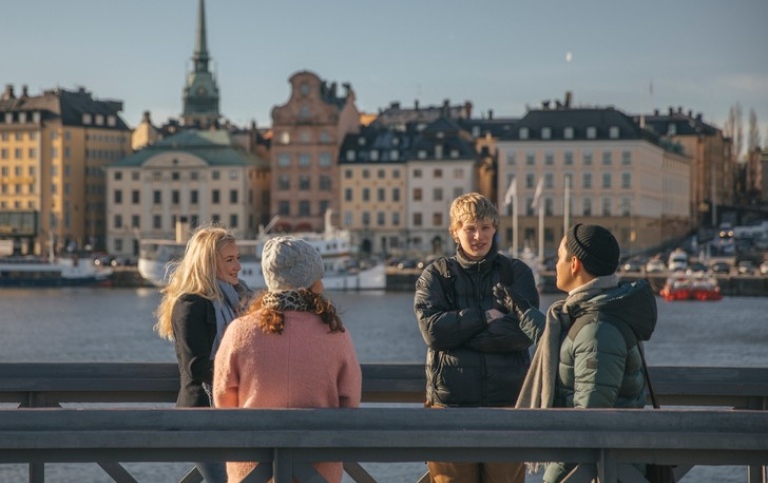 Foto: Niklas Björling
This course addresses the most common disabilities and their educational consequences as well as the teaching of pupils with these different disabilities. The course will look at the planning, monitoring and assessment of intervention for individuals in need of special education support. It will address the environmental and risk factors for children and youth. Teaching practice is a part of the course. Course delivery is through lectures, seminars to individual and group assignments.
This course consists of an overview of 1) the most common disabilities as well as low incidence disabilities, and their educational consequences; 2) instructional and classroom practices for some categories of disabilities in inclusive settings; 3)individual educational plans and models for solving problems; 4) some educational/special educational teaching strategies aimed at participation; 5) the importance of early intervention; 6) families of children with disabilities and parental involvement; 7) environmental risk factors for children and youth; 8) alternative augmentative communication and assistive devices; and 8) self-determination for pupils with special educational needs.

Teaching format

The course is delivered through lectures, seminars, case studies, group discussions, film reviews, and service-learning pedagogy elements such as writing critical reflection papers.

Assessment

Students are expected to attend all classes, group meetings and seminars. Attendance will be recorded for all classes and group meetings. All seminars and lectures are mandatory, and student participation is a vital part of the course. Failure to attend seminars and lectures will result in an extra assignment.

Both formative and summative assessmenst are core components of the course. The formative assessments are in the form of three individual reflection papers and two group assignments. The students are formed into groups after the course has commenced. The individual reflection papers are graded in accordance with the 7 scale grade criteria while the group assignments are either Pass/Fail.
The final examination will be a take-home written paper and is graded on accordance with the 7 scale grade criteria.

Your final grade for the course will be a combination of the individual reflection papers, the group examination and the final examination.

Examiner

Khaleda Gani Dutt

The schedule will be available no later than one month before the start of the course. We do not recommend print-outs as changes can occur. At the start of the course, your department will advise where you can find your schedule during the course.

Note that the course literature can be changed up to two months before the start of the course.

This course, Special Education, Disability and Learning (UQ147F), will be given on distance Spring Term 2021.

For more information and updates on Stockholm University and Covid-19.

Web registration

The web registration period will be open from 28 December 2020 to 7 January 2021 for students who applied to the course through Universityadmission. Register online by logging in to Ladok.

Erasmus students will be registered by the course administrator.

Athena

Athena is the online learning platform we use to facilitate discussion and reflection on the course literature and where all information and resources can be found. Only admitted students to the course have access to the platform Athena.