Hello, Head of the Property Management Office!
Lena Lundqvist, Head of the Property Management Office, talks about her department's work.
So, what do you work with?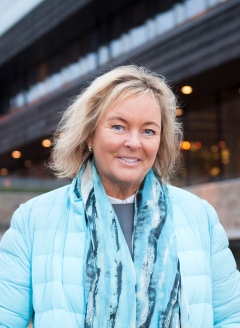 "The Property Management Office handles all of the University's sites and buildings, including residences for exchange students and foreign researchers. As of the first of the year, we also handle the service issues connected to properties, things like safety and maintenance, but also supplies and transportation. Additionally, we have the environmental coordinator here."
What type of support do you provide?
"We mainly work with three different things: long-range planning to meet the university's space and housing requirements; close to a hundred different types of projects, both big and small; and, last but not least, on-going things like issuing pass cards, training in safety, fire, and environmental issues, providing support in environmental issues, and the service and maintenance of buildings. We also help with moving, installation, supplies/transportation, and recycling. The Property Management Office even has an SU store which has everything from office supplies and university branded products to chemicals and gas for the laboratories."
Where is the office and how do we contact you?
"The 'Property Management Office' is actually in a lot of different places. Kansli, the Housing Office, and Caretaking are in Frescati Backe; Property Services and Safety and Security are in Södra huset; Purchasing and Logistics are in Allhuset; and the SU Store is in Arrheniuslaboratorium (House B). The best way to find what you're looking for is to go to su.se/fastighetsavdelningen."
Are there any big projects underway at the office?
"The work on the new Albano Campus is going full tilt. Some departments will start moving in 2020 to new and modern research and teaching environments. Some of the improvements the faculty, staff and and students will see are modern offices and study areas, which are in short supply in many of the current locales." Read more at su.se/albano
"We've been working on a new support system for property management since spring 2016, and we hope to launch it in early 2018."
"Eventually Södra huset will need to be renovated. We're doing a pilot project of a single floor in F house to test the technical possibilities and functionality. In addition to being a work space for the Property Office, Floor 6 will also be a laboratory for the future's activity-adapted office and a place for the entire university to visit and be inspired by."
"Please visit us in F6 in the autumn!"