Anja Hirdman
I am a Senior Lecturer at the Department of Media Studies and one of the Appointed Liaison Officers at the Faculty of Humanities. Together with Louise Wallenberg, I am responsible for the history and philosophy subjects.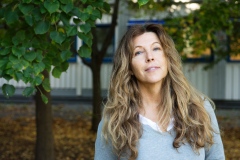 Responsible for:
History and philosophy subjects (together with Louise Wallenberg)
Contact:
E-mail: anja.hirdman@ims.su.se
Telephone: 08 16 31 94
Who may contact you, and with what kind of questions?
All researchers and teachers at the departments I am responsible for are welcome to discuss specific projects or general questions about collaboration. This may involve contacts with workplaces to arrange work placements or study visits, help finding agreement templates, or advice concerning applications for collaboration grants. To assist me in this work, I have access to resources at the External Relations and Communications Office, as well as the collective knowledge of the network of Appointed Liaison Officers.
How would you like to contribute as an Appointed Liaison Officer?
I want to highlight the importance of the humanities in our collaborative efforts and help create opportunities for new projects between researchers, teachers, and the community outside academia. The broad expertise that is available in different areas of the humanities is very important for dealing with various challenges in society.
What are you working on right now?
My most recent research focuses on media and emotions from different perspectives; how we engage with stories, what impact the type of media has on how and what we react to, what type of affects are generated by television programmes and images, etc. In addition to my teaching, I am working together with several stakeholders outside academia on a mutual exchange of knowledge, experiences, and perspectives. As Appointed Liaison Officer, I am working with collaboration grants.
Last updated: December 4, 2017
Page editor: Karin Walford
Source: External Relations and Communications Office