Adnan Mahmutovic
I am an Assistant Professor at the Department of English and one of the Appointed Liaison Officers at the Faculty of Humanities.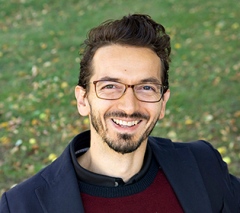 Responsible for:
Department of English
Department of Linguistics
Department of Language Education
Contact:
Adnan.Mahmutovic@english.su.se
Who may contact you, and with what kind of questions?
All researchers and teachers at the departments I am responsible for are welcome to discuss specific projects or general questions about collaboration. This may involve contacts with workplaces to arrange work placements or study visits, help finding agreement templates, or advice concerning applications for collaboration grants. To assist me in this work, I have access to resources at the External Relations and Communications Office, as well as the collective knowledge of the network of Appointed Liaison Officers.
How would you like to contribute as an Appointed Liaison Officer?
I am the Appointed Liaison Officer for English, linguistics, and language education. My experience of collaborating with various stakeholders in Swedish society has taught me that we at Stockholm University have much to gain from seeking out new partners outside academia. This is not just a matter of disseminating knowledge, but of finding new ways to develop as future educators.
What are you working on right now?
I am currently doing research on world literature in a large project that requires collaboration between different disciplines as well as the coordination of collaboration with various social actors, both in Sweden and internationally. I am also the coordinator for the MA Programme in Transnational Creative Writing at Stockholm University. In the MA programme, we try to find work placements and other types of environments where students can both contribute with their knowledge and learn to work in different industries where their type of expertise is needed. As Appointed Liaison Officer, I have been working with collaboration grants.
Last updated: December 8, 2017
Page editor: Karin Walford
Source: External Relations and Communications Office