Jessica Slove Davidson
I am Dean of Studies at the Department of Biology Education and one of the Appointed Liaison Officers in the Science Area.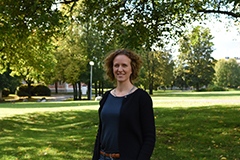 Areas of responsibility include:
Biology Education
Ecology, Environment and Plant Sciences
Zoology
Contact Information:
Email: jessica.slove@su.se
Telephone: 08-16 40 75
Who may contact you, and with what kind of questions?
I welcome the researchers and teachers from the departments for which I'm responsible to discuss both concrete projects and collaboration in general. It could be contacts with workplaces for internships and study visits, help finding a template for an agreement, or advice before applying for a collaboration check. I have the help of resources at External Relations and Communications and the combined knowledge of the local liaison network.
What attracted you to becoming an appointed liaison officer?
Creating the best possible environment for our students is what motivates me. Most of all it was the chance to increase collaboration for educational activities, which would lift the quality of the education we offer even higher. We know that students sometimes feel disconnected from real-life working situations. There's a lot we can do, like maintaining contact with our alumni. I've even recognised a need among the doctoral students to see a clear link between their studies and employment. I felt it, too, when I was in their shoes. I look forward to connecting the researchers with the support that External Relations and Communications can offer. I want to ensure that they get the support they need and hope to make collaborations easier.
What are you working on?
Right now I'm building up the mentorship programme started by Lisbeth, the previous liaison officer. Then, I want to start a dialog with the researchers about collaboration in order for me to learn about the existing collaborations, to increase the visibility of those collaborations, to learn how researchers think about these issues, and, eventually, to identify where support is needed. I would also like to organise an Art Race (BioBlitz) for Biological Diversity Day. I hope it would attract schools, alumni and the general public to appreciate the richness and number of species on campus, in the Royal National City Park, while they learn about the current research in the field.
Last updated: November 24, 2017
Page editor: Karin Walford
Source: External Relations and Communications Office