Patricia Shaughnessy
I am a senior lecturer at the Department of Law and the appointed liaison officer with the Faculty of Social Sciences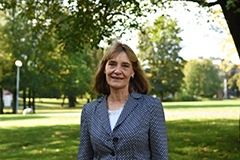 Responsible for these departments/institutes
Law
Criminology
Psychology
Stress Research Institute
Contact:
Email: patricia.shaughnessy@juridicum.su.se
Who may contact you, and with what kind of questions?
I welcome the researchers and teachers from the departments for which I'm responsible to discuss both concrete projects and collaboration in general. It could be contacts with workplaces for internships and study visits, help finding a template for an agreement, or advice before applying for a collaboration check. I have the help of resources at External Relations and Communications and the combined knowledge of the local liaison network.
How would you like to contribute as an Appointed Liaison Officer?
Collaboration is an important and stimulating part of our work as teachers and researchers. It can increase our understanding and give us insights that can, in turn, inspire our teaching and research while we share our knowledge and experiences with other people. By working with partners from outside the university we can improve students' education and future career possibilities. As academics we can, and should, be active participants in society. I look forward to helping my colleagues to seek out and identify exciting collaboration projects, both big and small.
What are you working on right now?
My teaching and research primarily concern international arbitration law. I have great possibilities to collaborate with partners in the legal and commercial arenas, both in Sweden and internationally. In addition to my work with teaching and leading an international master's programme, I'm also currently working on a book project. I have created, developed and led partnerships that supported various academic activities like conferences, scholarships and student activities. I am on the boards and leadership groups for a number of international organisations and act as an outside expert.
Last updated: January 3, 2018
Page editor: Karin Walford
Source: External Relations and Communications Office