Citizen science – research that engages the general public
Today, everyone, even those without specialist knowledge, is able to contribute to scientific discovery. This is called citizen science and often involves making observations or classifying large amounts of data – things that researchers would never have the time for. In Sweden, citizen science often involves observations in nature.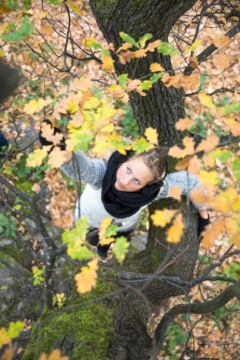 Citizen science is nothing new, says Ayco Tack. As early as the mid-18th century, Linnaeus' disciple Harald Barck collected data on the seasonal variations of plants from large parts of Sweden. The idea was that this information would, at some point, be of benefit to Sweden. From 1870 until the 1940s, conservation societies around Sweden observed signs of spring, summer, and autumn according to a fixed schedule. This resulted in nearly 350,000 observations of animals, plants, and agriculture from hundreds of towns in Sweden – from the first signs of spring to the last signs of autumn.
"We are resurrecting these studies, but using schools instead of conservation societies," says Ayco Tack.
Across the Swedish oak habitats, thousands of school children are collecting oak leaves and sending them to researchers for analysis. The oak project is going on at the same time as school children and the general public are collecting signs of autumn all over Sweden, a collection that has been going on for several years under the auspices of the Swedish University of Agricultural Sciences and the Swedish National Phenology Network. The idea is to be able to track climate change; does it make summer last longer, or do autumn and spring arrive sooner?
"It is important that the children feel that they are being useful and that they are helping the researchers. It gives them confidence," says teacher Jane Rosenkvist.
A few examples of citizen science from Stockholm University:
This autumn, Anders Björkvall, Gustav Westberg, and Sara Van Meerbergen, Department of Swedish Language and Multilingualism, are enlisting the help of school children in a survey of what can be found on billboards all over Sweden.
Jonas Hentati-Sundberg, Stockholm Resilience Centre, has collected and analysed photographs from the public and museums in order to find out how the size of Stora Karlsö has changed over the past 100 years.
Carmen Prieto and Georgia Destouni from the Department of Physical Geography have discovered that the orange tip butterfly has started to fly up to eight days earlier in the spring because of climate change over the past 50 years. They have used data from Artportalen (the Swedish Species Observation System) in their study.