New web shop for university merchandise
There's a new web shop for SU branded products which allows you to order profiled products that strengthen the university's visual identity. Master Design is running the shop for Stockholm University.
The shop's range of products is always changing and varied, meaning that certain products can be discontinued in favour of new ones. Students and the general public can purchase ready-made merchandise in the external web shop. Stockholm University employees order their products through the internal web shop using Raindance and can choose between ready-made products or customise their own profiled products. For environmental and practical reasons, free shipping only applies to orders over 500 SEK. Currently, only postal delivery in Sweden applies.
Ecommerce
All governmental agencies must make their purchases online according to rule 2003-770 and Stockholm University uses Raindance as its ecommerce platform. The system makes processing more effective and assures that agreements are followed which reduces paperwork. The result is saved time and money. First-time shoppers can contact the Procurement Section (Inköp och upphandling) through Serviceportalen who can help set up an account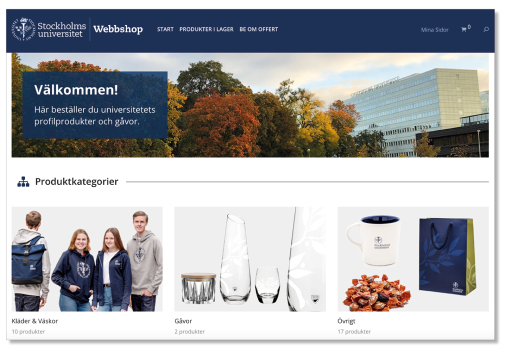 Questions about university merchandise? Please contact visuellidentitet@su.se