Well attended workshop with The Conversation
It's about getting your text read. That message got the university's researchers during a workshop in January on writing popular science articles for The Conversation.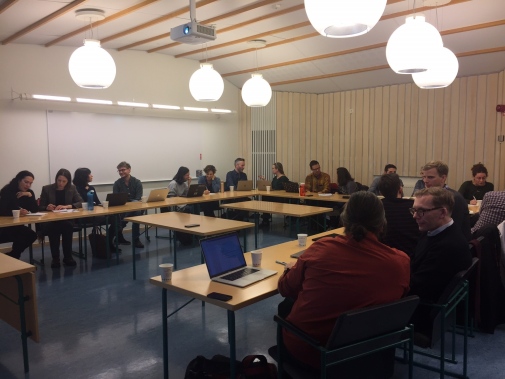 About 60 researchers from various departments had signed up to participate when Stockholm University, in collaboration with The Conversation, organized a workshop on two occasions on how science can be communicated to a broader audience and what researchers should think of to be published in the journal.
"Journalists are generalists, but academics are specialists. You can write about a subject with depth and clarity, which journalists cannot always do. You are needed", said Michael Parker, editor at The Conversation who held the workshop.
He stressed that it is important that researchers focus on what they are good at, and that it is better to submit a rough draft to the editorial team than nothing at all.
"We help you to polish the text."
Stockholm University is a member of the foundation behind the digital science magazine The Conversation which publishes research news for an international audience and reaches over 38 million readers each month. As members, researchers at the University can receive the editorial support by The Conversation to get articles published.
By creating a profile page in the paper, scientists are also easier to find for the editors. Michael Parker suggested that there are many different ways to write for the magazine, in addition to commentaries and analyses of current events.
Explainers and lists are always good to write
"Explaining something is always good, and it is often timeless. You can, for example, make explainers about how a spaceship works or what a tax haven is. Or various lists like: 'Five things you didn't know about this and that' or 'Ten reasons why this is so or so'. It's about getting your text read", Michael Parker emphasized.
The participants were asked to work in groups and propose headings on current research articles. During the round that followed, Michael Parker provided comments and suggestions to the proposals. Marie Löf, a researcher at Stockholm University's Baltic Sea Centre was one of those who participated and thought it was interesting to hear how the magazine works.
"It's good to know that they publish many different types of articles, I am inspired to write something", she said.
Laura Alvarez Lopez, professor at The Department of Romance Studies and Classics, said that she was considering to propose an idea.
"It is part of the job to reach out, but it's not always easy."
Hatice Zora, a researcher at the Department of Linguistics, found that the workshop was informative and motivating.
"I was very inspired and will create a profile page right now and pitch an idea for an article."
This autumn, a new workshop will be offered to researchers at Stockholm University as part of the University's membership with The Conversation. Read more about the collaboration and how to pitch an article idea: https://www.su.se/english/staff/services/information-communication/pitch-an-article-idea-for-the-conversation-1.462268