Apply for grants: Think about the details of your application
Ilona Riipinen has been awarded several major grants, the most recent a Wallenberg Academic Fellow. She prefers to apply for fewer grants and spend more time on each application.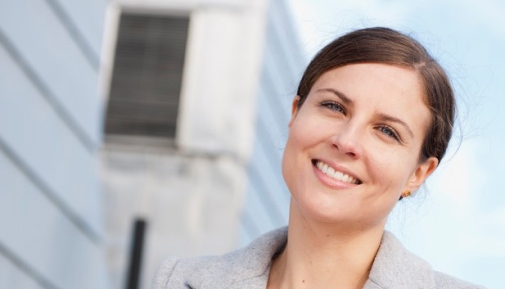 "If I want to apply for a specific grant, I look at what they want already a year in advance, and I might adapt what I'm doing to make it suitable. For example, if they want you to be independent as a researcher, I will make sure to publish something on my own," says Ilona Riipinen who is a researcher at the Department Environmental Science and Analytical Chemistry.
"I put a lot of time into writing the applications, and I make efforts to meet the criteria. I'm thinking that they have written their criteria for a reason, and I don't want to waste their or my own time."
She says that when she reviews applications herself, she can see a difference in the details.
"What separates good applications from 'excellent' ones is that the latter are more thought-out.
There has to be a good idea, of course, but the details also have to be good. For example, there should be an idea of how long a certain part will take to complete."
Has received good help
In 2015, Ilona Riipinen was named a Wallenberg Academic Fellow for her research on how clouds remove pollutants from the air.
"For me, this was confirmation that the work I do here at Stockholm University is considered to be good. The fact that it's a Swedish grant also makes me feel more like a part of the Swedish academic community. It's also a confidence boost, since it's such a long and serious application process. But most of all I'm very happy to be able to conduct this research."
The Research Support Office at the University, formerly known as the Research Liaison Office, is available to help researchers seek funding. Ilona says that she has received useful help there, and from her own department.
Ilona's most important external grants are ERC (2011) and WAF (2015), as well as grants from Formas and the Swedish Research Council.
Ilona Riipinen's advice for writing good applications
The most important thing is to be confident about what you are doing and how important it is. If you have the confidence and the time required to write the application, it will probably be a good application.
"There is a time for everything". If you are currently establishing yourself as a researcher, you might want to devote all your time to this instead of trying to do everything at once while applying for grants.
Read the criteria carefully and make sure you meet them. Read the criteria in time so you have time to build up what they are looking for.
Reserve enough time to write the application. For those who are at the beginning of their research career and writing their first application, it will take time to develop their idea and find their niche.
Make sure to get comments from a few select people you know are experienced and want to help you. Ask them to be the devil's advocate. See criticism as an opportunity to learn.
Information from the Research Support Office
More information about applying for external research funding is available at www.su.se/forskningsstod. The e-mail address is info@fs.su.se.
Websites for researchers, including current calls for applications, are available at www.su.se/forskare.
A newsletter is published about ten times a year. Send an e-mail to nyhetsbrev@fs.su.se to subscribe. The funding opportunities database Research Professional, www.researchprofessional.com, contains thousands of calls for proposals relating to scholarships, research grants, travel grants, etc. The Research Support Office is located in Södra huset, E building, 6th floor.
Last updated: June 17, 2016
Page editor: Hanna Hellzén Cramér
Source: External Relations and Communications Office