Being a manager
Yesterday, I attended the latest round of Att vara chef (Being a manager), the University's management programme where department heads, directors of studies and unit heads in the administration meet to discuss leadership issues, of course, but also other issues of common interest to Stockholm University.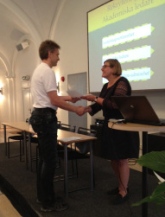 It was an intense and rewarding afternoon with accounts of the participants' group work on different themes, followed by a diploma ceremony.
We who were there from the university management were presented with many good ideas and thoughts about internationalisation, recruitment, strategic leadership and conflict management.
Good leadership is a key factor for a decentralised university like ours.