Delegation to Southern Africa
Since last Sunday, I am participating in a trip to South Africa and Botswana for vice-chancellors.
Both the Swedish Higher Education Authority (UKÄ) and the Swedish Foundation for International Cooperation in Research and Higher Education (STINT) organize trips for vice-chancellors with partly different purposes. But this year they made common cause and the delegation, led by the University Chancellor, includes no less than 13 vice-chancellors and four research funding bodies. The State Secretary and Sweden's Ambassador to South Africa has both participated during parts of the trip. The programme is tremendously crammed. So far we have visited University of Johannesburg, University of Pretoria, University of Witwatersrand and University of Botswana, and met the management of the Botswana International University of Science and Technology (BIUST). We have also met representatives of research funding bodies and the political leadership of both countries.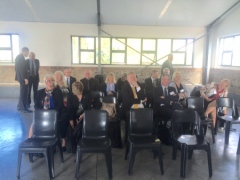 South Africa and Botswana are neighbours indeed, but it is hard to imagine two countries more different from each other. South Africa has a population of 53 million, Botswana just over two. While South Africa in many ways still bears the stamp of its violent history, Botswana is remarkably quiet and peaceful. We arrived in South Africa at a critical moment: since last autumn the universities there are shaken by violent student turbulence. There are protests against the tuition fee system, language issues (there are eleven languages in South Africa and Afrikaans is still a charged issue) and a general frustration in a country where juvenile unemployment is 50 per cent and education is no guarantee for a job. But there are also both prestigious older universities and new ones, which are growing quickly. Botswana, on the other hand, is characterized entirely by a pioneering spirit. With only two state universities, both of them fairly new, the country has high ambitions and makes large investments for the future.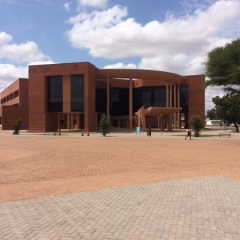 The University of Botswana campus, which we visited, was very impressive. 90 per cent of the students have government study grants covering their costs of study. At the same time, the whole of Africa is growing rapidly – many of the fastest growing economies in the world are found here, and as much as 75 per cent of the population is young, under 24 years old. This means, of course, both enormous challenges and opportunities, and international exchange is a necessary part of it. As one vice-chancellor put it: "The Africans are coming".
Last night we arrived in Cape Town, where we will have a workshop to which all vice-chancellors in South Africa are invited. During the days to come we will also have time to visit University of Cape Town, Stellenbosch University, Stellenbosch Institute for Advanced Studies and University of Western Cape, before it is time to return home on Saturday.