Vice-Chancellor's delegation to Turkey
We arrived in in Turkey on 8 September with a delegation from Stockholm University. We spent the Monday in Ankara, starting with a breakfast meeting with our new Ambassador Lars Wahlund. We have previously had valuable support from the Swedish Embassy in the process of establishment of SUITS, our Institute for Turkey Studies.
In the morning we visited Bilkent University, which is one of the highest ranked research universities in Turkey, and where all teaching is carried out in English. Stockholm University has an existing exchange agreement with Bilkent in mathematics, and we discussed the possibility now of broader exchanges in different ways and within different subject areas.
The rest of the day was spent conversing with our Ankara-based strategic partners in SUITS: the think tank TEPAV (Economic Policy Research Foundation of Turkey) and TOBB (The Union of Chambers and Commodity Exchanges of Turkey). TOBB University, which we also visited, is only ten years old, expanding rapidly, and very interested in exchange, with SUITS as the hub.
The journey continued to Istanbul, where we met some of our strategic partners in the business world: Alarko Group and TUSIAD (the latter is an organisation closely comparable to Swedish Enterprise). There was considerable discussion about Turkey today and its role in the world.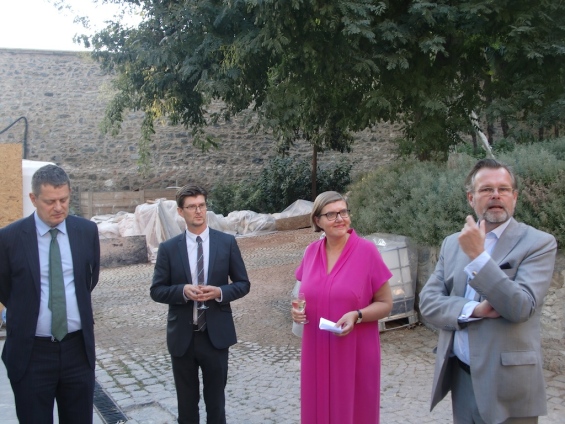 On Tuesday evening Birgit Schlyter, Director of the Swedish Research Institute in Istanbul and professor at Stockholm University, had very generously allowed us to use her premises for a reception, where both our Ambassador Lars Wahlund and our new Consul General Jens Odlander were able to participate, to our great delight.
The unrest that erupted later during the evening reminded us of course of the problems that exist in the country, which in turn brought to mind the importance of independent research on Turkey.
On 11 September, I attended the vast EAIE conference (European Association of International Education) with 4,800 participants, which celebrated its 25th anniversary. EAIE, together with the IUA (International University Association), organized this year, for the first time, a day-long Executive Seminar, which was attended by some thirty principals/Vice-Chancellors from around the world to discuss internationalisation issues.
Before departing we managed to visit a total of three other universities here in Istanbul. First Bosphorus University (Bogazici), which is an entirely English-speaking public university (formerly American College) where we already have an exchange agreement within the field of education, followed by the two private prestigious universities, Koç (which has an exchange agreement with DSV) and Sabanci, also English-speaking. These are very good contacts to develop for the future.