Master Thesis presentation by Cristina Petronilla Passet
EVENT
Date:
08 February 2021, 1.00 PM
-
08 February 2021, 3.00 PM
Venue:
Zoom
The spatio-temporal evolution of groundwater-dependet precipitation
Location: Join Zoom Meeting https://stockholmuniversity.zoom.us/j/8378913423?pwd=d1RVc2s0aHlKTHlxMUlVb2c3RWtkUT09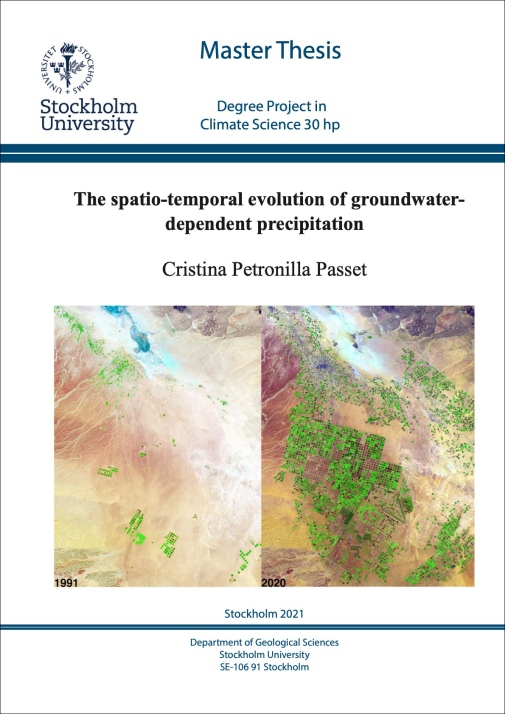 Cristina Petronilla Passet will defend her master thesis in Climate science on February 8 at 13h00. Lan Wang Erlandsson is the supervisor.
The zoom meeting will be open from 12.45.
Meeting ID: 837 891 3423
Passcode: frogpm
One tap mobile
+46850500829,,8378913423# Sweden
+46850520017,,8378913423# Sweden

Dial by your location
+46 8 5050 0829 Sweden
+46 8 5052 0017 Sweden
+46 850 539 728 Sweden
+46 8 4468 2488 Sweden
+46 8 5016 3827 Sweden
+46 8 5050 0828 Sweden
Meeting ID: 837 891 3423
Find your local number: https://stockholmuniversity.zoom.us/u/ccIK6vqV0F

Join by SIP
8378913423@109.105.112.236
8378913423@109.105.112.235

Join by H.323
109.105.112.236
109.105.112.235
Meeting ID: 837 891 3423
Passcode: 564532

Join by Skype for Business
https://stockholmuniversity.zoom.us/skype/8378913423