Excursion to Les Eyzies May 2011
Last day in Les Eysies
May 14, 2011
Last night I was woken up by a thunderstorm. This is always a great spectacle, because the thunders are so loud and the strokes of lightning are so strong and so clearly visible from the plateau where the house is located. Next morning the 30–35°C temperatures had dropped to around 20°C, and it was raining, which gave a kind of subtropical feeling. People here in Les Eyzies tell me that the warmth of the past days is not really normal, and that temperatures should be much lower during this part of the year.
Today Thursday is the last day of the excursion. This morning we visited the cave of Rouffignac with its fantastic paintings of mammoth, rhinos, horses and ibex, made by manganese oxide, and the beautiful engravings. I have visited this cave so many times now during the past years, but each time I discover something new and each time it feels exciting to climb on the little electric train and to drive deep into the cave. The owners of the cave, the Plassard family, are great and are always prepared when we come; usually their son, who is an expert in cave art, will guide us and explain the different paintings in great detail.
Lunch at Laugerie Basse at the restaurant Chez Jugie was good as usual and all our students very much enjoyed the food, the nice views and the beautiful setting below the high limestone cliffs.
The last part of the excursion was the talk by Francesco d'Errico from Bordeaux University. Francesco talked about symbolism in Neanderthal and anatomical modern human cultures, and answered many questions posed by the students. I am really glad that he takes his time to come from Bordeaux just to give a lecture in our course, and each time his lecture is highly appreciated.
We celebrated the end of the excursion with another grilled beef and a great salad prepared by Per, who had a hard time making a fire in the grill with damp wood! Another successful excursion and another successful collaboration between Stockholm and Lund!
Tomorrow we will leave Les Eyzies, but already in September we will be back here, with another group of 40 students, touring the same sites.
Pech Merle and Cougnac
May 12, 2011
30°C all day long! What could be better to walk deep into a cave where temperatures are 13°C and the humidity at 100%, and admire the fantastic cave paintings made by the Cro Magnon people? A 2.5 hours drive southeast from Les Eyzies, in Lot et Garonne, is the beautiful cave of Pech Merle. Luckily this cave has the capacity to welcome a large number of people each day, which would not have been possible at Font de Gaume, where we usually visit. Pech Merle has not only the fantastic horse paintings in black and red, but also quite a number of bison, and mammoth, engravings and the enigmatic hands. On top of all this, the 4 km long cave offers great views on stalagmites and stalagtites and other strange cave formations. The museum also offers an introduction to the cave with English subtitles, and leaflets in English and Danish, and has really friendly guides who speak some English and who take their time when I make my translations to Swedish. Quite a difference to Font de Gaume, where I each time get the feeling that I am a burden and that I should be grateful for having been admitted at all.

The tiny town of St. Cirq-Lapopie was our short stop for lunch. Of course we should have had more time to explore this great place, to walk around in the steep little streets, to admire the medieval houses, to eat lunch in peace, to visit the small shops and the museum. But we had, unfortunately not the time, because we had an appointment at our next stop, at the cave of Cougnac, where more cave paintings were waiting for us. Cougnac is some 20 km southeast of Sarlat, and more or less on the way back to Les Eyzies. Roads are small and it takes much longer time to drive 30 km on these winding roads and through the small villages, as compared to Sweden. I had counted a bit short of time for the drive from St. Cirq-Lapopie to Cougnac and we arrived therefore 15 minutes late. But fortunately this was no problem, our group was admitted, and had a nice visit in both caves, the one with the drawings and the other cave with its nice stalgmites and stalagtites. Cougnac features mammoth, ibex, and giant deer, painted in red iron oxide and charcoal, but has also two interesting figurines, which seem to have been pierced by spears.
Tomorrow is the last day of the excursion. We will visit Rouffignac in the morning and will conclude with another visit to the museum in Les Eyzies and a lecture by Francesco d'Errico from Bordeaux. And, of course we will have our joint lunch in Laugerie Basse Chez Jugie.
Is grilling meat part of the DNA transmitted by Neanderthals?
May 11, 2011
Being on excursion with two guys who take care of almost everything, buying food, cooking dinner, making breakfast and washing the dishes – could life be better? They even remembered to buy a dry white wine for me, and one of my favourites, a delicious French apricot pie! The only thing I need to do is sitting down at the breakfast table and eat, or sitting down at the ready dinner table and eat. The only thing I need to take care of is the excursion.
Today's simple dinner consisted of duck liver (homemade by Florence's mother), plum marmalade, and fresh bread; grilled beef flavored with salvia, and grilled merguez; and a fresh tomato salad; finally as desert, an apricot pie. Of course suitable wines accompanied each of the different courses. For sure, grilling meat is a male thing, isn't it? How many women have you seen, who become really engaged in grilling meat? Not so very many I guess. I also think, that grilling meat is a very old custom that has been passed on from father to son over thousands and thousands of generations. Thus, I hypothesize that the grilling meat gene comes from the Neanderthals and that it had been transmitted to Homo sapiens during some of the encounters we had with the Neanderthals, who ate loads of meat. Or maybe it came all the way with Homo sapiens directly from Africa, where Homo heidelbergensis and Homo ergaster had been the meat-grilling champions? For sure, Svante Päboo will soon discover the meet-grilling gene, once he has completely sequenced all the Neanderthal genes.
Was it the good food, or the many glasses of wine? Suddenly we were in the middle of a heated discussion regarding gender issues, gender equality and gender certification in academia. It is a bit difficult to reconstruct this discussion in detail, and maybe it is even better if I don't, but the final conclusion of it was that everything starts at home. If women don't demand more space, if women don't demand more time, if couples don't share everything really equally, and if women instead continue to take on a larger share in terms of child care and household issues, then they will inevitably lag behind their male colleagues. Why are many men so successful? Because they have someone at home who takes care of most things. Now of course some of you will say: "then we have to change the whole system, and decrease the demands in academia, so that life becomes more equal; anyway it is a system that had been designed by men". I am afraid that this will not be possible, at least not for the coming decades; academia is competition; you either win or loose, and much of this depends on you (plus a little help, of course, and some luck).
Diving deep into the Neanderthal world
May 10, 2011
Many sites around Les Eyzies contained and still contain remains dating from the time when Neanderthals populated the region. But not all of these sites are open to the public. Today's program featured three of the most famous sites, La Micoque, Le Moustier and La Ferrassie. These not only delivered artefacts and/or skeletal remains of Neanderthals, but also make for an interesting history of archaeological research, featuring Otto Hauser and Denis Peyrony, among many others. Although I have come to Les Eyzies twice each year during the last four years, I still find it exciting to revisit all these sites, and each time I learn something new that can be incorporated in next year's guidebook.
Much has been said and written about La Micoque, a site with a really complicated stratigraphy, and strange artefacts. But now it seems as if geologists and archaeologists have come to a valid conclusion: most of the sediments were deposited when the small river had higher discharge, most of the artefacts date to the Moustérien and are attributed to Neanderthals, and the old famous bifaces, which had been found on top of the stratigraphy, are reworked from the plateau above the site. However they testify for the presence of Homo erectus, Homo heidelbergensis or Homo antecessor in the region. Unfortunately their skeletal remains have not been yet in or around Les Eyzies.
Le Moustier is famous for the story about the skeleton which Otto Hauser sold for a sum corresponding to 7 000 000 Euro in today's currency, and for the small child skeleton, which had been discovered again in the museum after decades, and which had made it into Nature after the careful excavation by Bruno Maureille.
During the old excavations in La Ferrassie several burial mounds containing Neanderthal skeletons of different ages were found. Among these is one of the best-preserved European Neanderthal skeletons, a man aged 50, who probably was handicapped, but who was cared for by his family.
Thanks to all these skeletons from Le Moustier and La Ferrassie, researchers have been able to obtain very good information regarding the ontogeny of Neanderthals.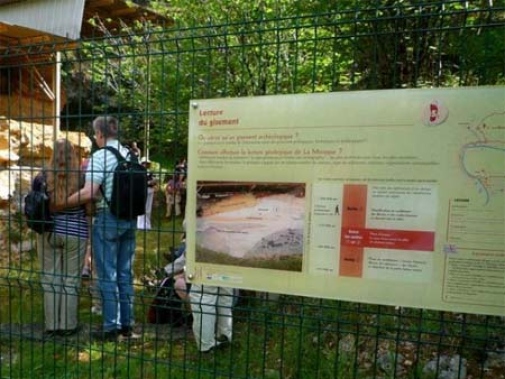 All excavations at these three sites had been made early during the last century, although some follow-up excavations and additional investigations had been performed at La Micoque and La Ferrassie some decades ago. Age estimations are therefore still rather vague, and are mainly based on the correlation of artefacts. It will be interesting to see what the new excavations at La Ferrassie, planned for June this year will give.
Compared to last year we are really lucky with the weather. Sunshine all daylong and temperatures approaching 30 °C! I guess that most of our students were longing for a cold beer after this long day, full of impressions and information.
Tomorrow will be a long day. We will drive to Pech Merle and visit the paintings made by Homo sapiens, and hopefully we will have some time to admire the beautiful landscapes and the nice villages. And now, a great dinner is waiting, the chef Per will treat Otto and me to a grilled beef and a tomato salad, and as a first dish we will have the duck liver made by Florence's mother! All this will be eaten on our terrace from which we have the most gorgeous view of the surrounding limestone plateaus.
Market day and museum visit
May 9, 2011
At 08h30 am we met our group of students – all had found their way to the meeting point. And, surprise, surprise, the number of students from Lund was 19 and not 29, as Per had told me yesterday. I wonder who of us two is the mathematical genius! Now I do not need to change my arrangements, but have everything under control.
Our first visit this morning was the small market, which is always held on Monday mornings. Local farmers sell fresh bread, vegetables, cheese, sausages, goose and duck liver, walnut oil, and many other delicacies. After a walk along the market, one does not need any lunch. In one place we tried different cheeses, in another the fresh strawberries, yet in another the sausages, then the goose and duck liver! I bought sweet tasting strawberries.
But – our objective for this first day was not the market, but Abri Cro Magnon, the Musée de la Préhistoire, la Gorge d'Enfer and Abri Pataud. It was in Abri Cro Magnon where the first finds of Homo sapiens (Cro Magnon) together with Aurignacien tools were found in the year 1868. This was more or less the starting point for archaeology in and around Les Eyzies, although Edouard Lartet and Henry Christy had already been digging in a nearby abri in the year 1863.
The new and beautiful museum at Les Eyzies, which opened in 2004 contains detailed information on the archaeology in and around Les Eyzies, explains the different stone tool technologies, the stratigraphies and how people lived during different archaeological time interval, among many other things. The museum and the exhibition are really well made, but a drawback is that all information is in French. Our students had their guided visit this morning, with explanations by the two guides Megan and Florence.
After a long lunch we set off to explore the Gorge d'Enfer, where several large abris are set along the lush valley. This is an excellent place to explain how abris have formed and how caves formed, how digging was done 100–150 years ago, and how important it is to conserve all these fantastic archaeological sites. Last on the program was Abri Pataud, where Hallam Movius made modern excavations between 1954 and 1966. His stratigraphic coordination system (X, Y, Z) is still visible and is still used during excavations now. The stratigraphies in Abri Pataud are well preserved and contain finds dating from the Aurignacien to the Solutrean.
With all these new impressions, the new terminologies and the wealth of information that our students have received on this first day, it is no wonder that they now long for a quiet and nice dinner in one of the many restaurants in Les Eyzies.
Sweden invades Les Eyzies
May 8, 2011
Early rise this morning to catch the airplane to Bordeaux, which left Arlanda 06:30 am! From Bordeaux we drove east towards Bergerac, past the extensive wine yards, and pretty villages and stopped shortly in the beautiful little town of St. Emilion. This town, which is one of UNESCO's heritage sites, is perfect for strolling around: narrow streets, old medieval houses built from calcareous sandstone, restaurants and wine shops. These latter contain however quite expensive bottle of wine and prizes of 60-100 Euro seem to be quite normal.
The weather is great, 25 °C, which is comparable to a typical Swedish summer. The fields are green, the trees are in full bloom and flowers are everywhere. It is great to have a few summer days after the long Swedish winter.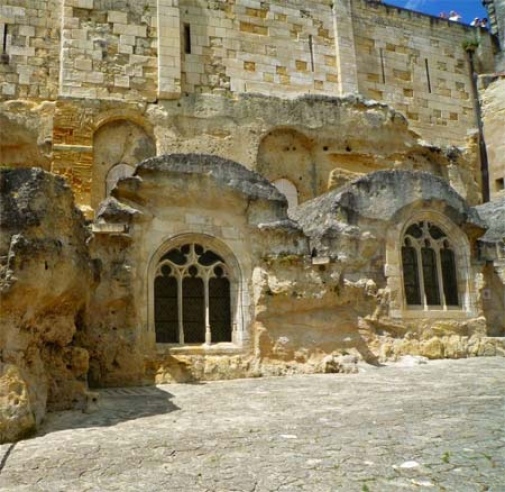 The little village of Les Eyzies looks just the same as when we left last year in September, nestling below the towering Cretaceous limestone cliffs. I hope that the students will enjoy the place as much as I do. Per just told me that the number of students from Lund is 29! First I thought that he had made a joke, because I had planned for 20 students from Stockholm and 20 students from Lund, but obviously we had misunderstood each other in our mails! He had thought that Lund would have a quota of 30 students and was happy that he could reduce the number to 29, and my quotas were 20+20=40! But my mathematical skills have never been great! So now here I am with 49 students, while all bookings had been made for 40. Never ever had I had such a large number of students on the excursion! Let's just hope that the bus I had reserved has enough space for everyone, and that we can manage such a large group. It will be interesting to see how this will work out. Les Eyzies and its inhabitants will definitely hear a lot of Swedish this week!
Another week has passed
May 7, 2011
Snow, rain and wind on Tuesday morning and today it is warm and sunny and feels like summer! People sit everywhere in outdoor cafés and enjoy this gorgeous weather. In Les Eyzies, where I am going tomorrow, temperatures are even higher and will be so all of next week.
This week has been incredible busy. Francesco, a new MSc student started and needed help to sample his sediment core. Kruawun, a guest researcher from Chulalongkorn University arrived and will stay with us for a month. She is working on tsunami deposits in Thailand and we will discuss a joint future project.
This week also saw how democracy works, but so little is being discussed about it. Why was it not possible to capture the worst terrorist of all, bin Laden alive? Why was it necessary to also kill his wife or son? Is this how we treat our worst enemies, and claim at the same time that we in the west are democratic countries and citizens? Or does the war on terrorism allow undemocratic moves? Why are these issues not being discussed more? Do we not care, or are we afraid of raising these questions?
I also had some interesting discussions with young female scientists this week regarding women and science and the problems that many young women encounter. One really crucial point actually is, how the partner at home shares his time. Is he really doing equally much housework? Is he really equally contributing to childcare? Or, is his work so much more important that he does not really have time for this? Does he find loads of excuses to rather clean the car, but not the toilets? Does he take equal responsibility? Statistics Sweden tells us an interesting story: women work equally much for paid and unpaid work, while men work double as much for paid work as compared to unpaid work! During one week, women work about 28 hours unpaid, while men only work 20 hours. This clearly shows that men spend more time with their job and women more time with home and children. Of course these numbers vary depending on age and situation, but they still tell the story!
I think the stress that many young women in science feel is equally much related to the time they spent at their job and the demands that exist there, and to the stress they have at home, cleaning, cooking, taking care of the kids, and many other things. They still have the demands on them of being perfect in everything they do. Although men have become much more engaged in household issues and childcare, they have much less of these social demands on them, as compared to women. Who cares if they don't clean so properly? Who cares if they don't cook food? In addition, the recent backlash, which makes motherhood such a big thing again, will certainly contribute to increase the stress and feeling of women of not being good enough! It is difficult to produce a large number of publications each year, when you also have to do most of the household work, when you feel that you are not a good enough mother for your kids, when you have to stay home each time your kids are sick and when your partner thinks that his stuff is so much more important than yours. Add on that all the demands from your mother, your mother in law and society, and you are close to a breakdown. I really had thought that things would have changed during the past 30 years. But they have only changed very little, and it is sad to see that many young women still battle with the same issues. Had I not had cleaning help during all these years, I don't know how I would have managed...
France and Les Eyzies next!
May 3, 2011
In a few days I will be off for the next trip. This time to France, and more precisely to Les Eyzies, the World Capital of Prehistory, which is situated in the Dordogne, east of Bordeaux.
Twice a year we come to Les Eyzies as part of the evening course in Human Evolution. We spend five days exploring the prehistory, the caves and abris, and the museums. Les Eyzies with its wonderful museum, and many archaeological sites within walking distance is a great place to learn about the Neanderthals, the Cro Magnons and the beautiful cave paintings.
This year we will be a very large group of 40 students; half of the group will be from Lund University and the other half from Stockholm University. We have never had so many students at once, and I hope that it will work out fine.
On our first day we will visit the Musée de la Préhistoire, the Cro Magnon cave, Abri Pataud and the Vallée d'Enfer. The second day is our stratigraphy day with visits to Le Moustier, La Ferrassie and La Micoque. New for this year is a trip to Pech Merle and Cougnac on day three. We chose these sites because they can accommodate more visitors, as opposed to Font de Gaume and Les Combarelles, which we had visited before. The final day leads us to Rouffignac, which usually is the highlight of the excursion, and ends with a lecture by Francesco d'Errico in the museum. And of course, the joint lunch at Laugerie Basse, Chez Jugie!
Although I have now been in les Eyzies at least eight times during the past three or four years, I look forward each time to the visit. It is such a beautiful place, and contains so many treasures!