Ice dammed lakes and their climatic impact
About 90 000 years ago huge proglacial lakes with a combined size larger than any freshwater body on the earth today were dammed in northern Russia. The damming occurred as a consequence of the Early Weichselian ice sheet that advanced onto the Northern Russian mainland from the north and blocked the paths of the north-flowing rivers to the Arctic Ocean.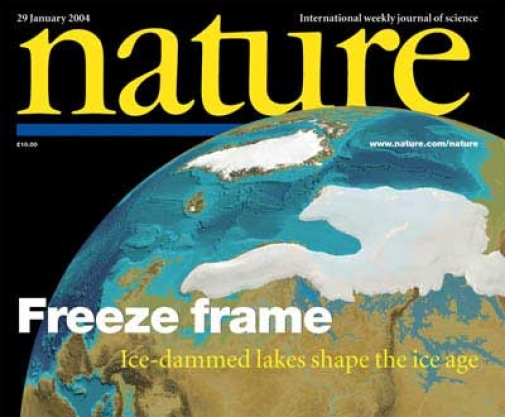 Within this research, volumes and areas of these ice dammed lakes have been estimated using modern topography, elevations of the former lake surfaces and the geographic position of the damming ice margin. This project is collaboration between University of Bergen, LGGE CNRS-UJF Grenoble, and Stockholm University.
The climatic impact of the lakes was simulated using an atmospheric general circulation model that explicitly account for the surface mass balance of the ice sheet. The simulations show that the summer cooling mechanism from proglacial lakes accelerated ice sheet growth and delayed ice sheet decay in Eurasia and probably also in North America.
Contact information:
Martin Jakobsson | martin.jakobsson@geo.su.se
References
Krinner, G., Mangerud, M., Jakobsson, M., Crucifix, M., Ritz, C., Svendsen, J.I., and Genthon, C., 2004, Enhancement of ice sheet growth in Eurasia owing to adjacent ice-dammed lakes, Nature, v. 427, p. 429–432.
Mangerud, J., Jakobsson, M , Alexanderson, H., Astakov, V., Clarke, G., Henriksen, M., Hjort, C, Krinner, G., Lunkka, J.P., Moller, P., Murray, A., Nikolskaya, O., Saarnisto, M., and Svendsen, J.I., 2004, Ice-dammed lakes and rerouting of the drainage of Northern Eurasia during the last glaciation, Quaternay Science Reviews special QUEEN volume, Quaternary Science Reviews, v. 23, p. 1313–1332.
Mangerud, J., Astakov, V., Jakobsson, M. and Svendsen, J. I., 2001, Huge Ice-Age lakes in Russia, Journal of Quaternary Science, v. 16, no. 9, p. 773–777.