Oden Multibeam
A deepwater multibeam echo sounder and chirp sonar profiler installed on icebreaker Oden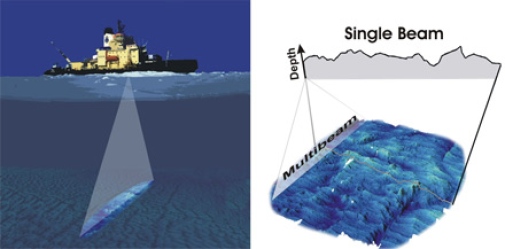 An EM120 1°x1° multibeam echo sounder with the integrated sub bottom profiler SBP120 by Kongsberg Maritime has been installed on the Oden icebreaker. The installation was made while the icebreaker was placed in dry-dock between April 17 and May 15 at Öresundsvarvet in Landskrona, Southern Sweden. The Knut and Alice Wallenberg foundation and the Swedish Research Council (VR) financed the multibeam and subbottom profiler through research grants awarded to Stockholm University and Gothenburg University. The Swedish Maritime Administration financed and managed the installation.
The Sea Acceptance Test
The Sea Acceptance Test (SAT) for the Kongsberg Maritime EM120 and SBP120 installation on the icebreaker Oden was performed outside of Lofoten Island, Northwestern Norway. Multibeam bathymetry and subbottom profiles were acquired off and on the Lofoten continental shelf. The data was post-processed using Caris HIPS version 6.1 and Fledermaus. The multibeam reveals the spectacular canyons of this area and mega scale glacial lineations on the shallow shelf molded by previous glaciations.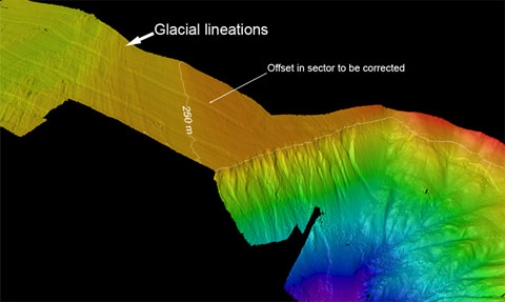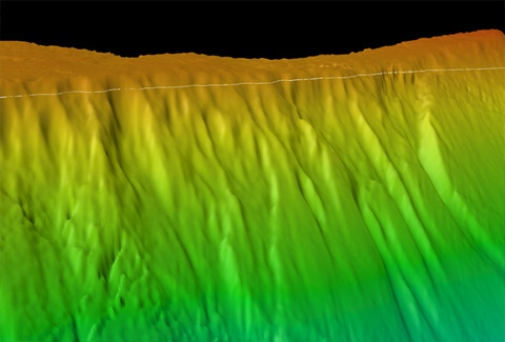 EM120
Depth range: 20 to 11000 m
Swath width: up to 6 times water depth
Beam width: 1°x1°
Beams: 191 covering a sector up to 150°
Frequency: 12 kHz
SBP120-3
Frequency range: 3–7 kHz, chirp
Vertical resolution: 0.35 ms
Horizontal resolution: 3°x3°
Integrated with EM120 by using the same receiving transducer array
The EM120 12 kHz multibeam echo sounder is designed to perform seabed mapping – bathymetry and seabed imagery- to full ocean depth with an explicit resolution, coverage and accuracy. During the course of 2008, Kongsberg Maritime will upgrade the EM120 Oden installation to the new EM122, which currently is under development. This system upgrade does not involve new hull installations of the transmitting or receiving arrays, but new signal processing capabilities that will enhance the system's performance. EM122 will be capable of handling 288 simultaneous beams and multi pinging implying improved resolution. The signal to noise ration will be improved through the use if FM chirps.
Image Gallery from installation