International Master's Programme in Art History: Technical Art History and the Art Museum
Are you interested in early modern art, its related research and professional praxis within art museums? Curious about artistic techniques, scientific analyses and how it applies to Art History?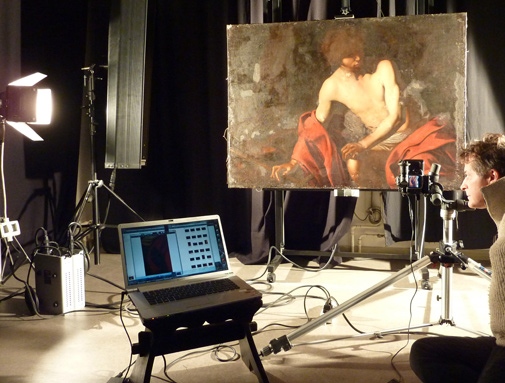 Next admission round for this programme will be October 2019 – January 2020, for Autumn semester 2020.
This two-year master programme provides students with in-depth empirical and theoretical knowledge in the field of Art History with a focus on Technical Art History, the history of the art museum and its professional practice, as well as History of Collections and Archive Studies. Through the design of the courses and examinations, you develop your ability to understand and apply the professional practice regarding logistics, economics, law and administration that is applied in museums or other institutions where early modern art is handled.
As a student of the programme, you will develop your ability to understand and apply scientific research methods regarding materials, age and condition of the art object, to understand and apply digital processes to make available technological research results in databases and to equate and reconstruct / construct historical and / or current exhibition space in digital form. Furthermore, you develop your ability to understand and apply methods in archiving knowledge and reconstruction of historical art collections.
The programme provides knowledge and skills for activities and work in the international Art History field with a clear focus on the museum world, the art market and equivalent. The programme has an international profile with English as the main language and international teacher competence.
Courses with laboratory elements
The teaching is largely in direct contact with the studied material: in the university's art collection, in the laboratory, in archives and in museums. The courses within the programme are theoretical and pragmatic with elements of eg laboratory work, instrument management, analysis of technical results, knowledge about reconstruction and understanding of collections and museum management. The courses in technical art studies are given in collaboration with the Department of Materials and Environmental Chemistry and the Department of Computer and Systems Science (DSV).
Semester I
The Art Museum and its objects: historical context, materials and professional praxis, 7.5 ECTS credits

Syllabus The Art Museum and its objects (238 Kb)
Scientific Methods and Research Ethics 7.5 Higher Education Credits 7.5 ECTS credits
Information at the website of the Department of Philosophy
Technical Art History I, 15.0 ECTS credits

Syllabus Technical Art History I (240 Kb)
Semester 2
Sources and documents: analysis, source criticism and interpretation , 7.5 ECTS credits

Syllabus Sources and documents: analysis, source criticism and interpretation (151 Kb)
History of collections: making, reconstruction and interpretation, 7.5 ECTS credits

Syllabus History of collections: making, reconstruction and interpretation (146 Kb)
Technical Art History II, 15.0 ECTS credits

Syllabus Technical Art History II (242 Kb)
Semester 3
Exhibition Project, 7.5 ECTS credits

Syllabus Exhibition Project (244 Kb)
English for Academic Research 7.5 ECTS credits
Information at the website of the Department of English
Internship in Art History with an Orientation towards Technical Art History , 15.0 ECTS credits

Syllabus Internship in Art History with an Orientation towards Technical Art History (83 Kb)
Semester 4
Technical Art History: Technical campaign of a single artwork - Master's Course I, 15.0 ECTS credits

Syllabus Technical Art History: Technical campaign of a single artwork - Master's Course I (243 Kb)
Technical Art History - Master's Course II, 15.0 ECTS credits

Syllabus Technical Art History, Master's Course II, spring term 2019 (247 Kb)