Media Matter: Media-Archaeological Research and Artistic Practice
EVENEMANG
Datum:
27 november 2019 09:00
-
29 november 2019 17:00
Plats:
F-salen, Filmhuset, Borgvägen 1-5, Stockholm
Internationell konferens arrangerad av Institutionen för mediestudier och Institutionen för kultur och estetik den 27-29 november, 2019.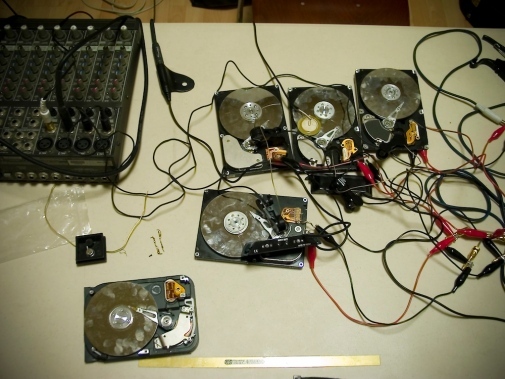 As the field of media archeology has manifested simultaneously in various areas of media theory, media historiography, contemporary digital culture, media art, and electronic literature, questions of materiality have moved to the forefront. Media archaeologists have shifted scholarly attention from "messages," narratives, or contents to the mechanisms of mediation, obsolete and forgotten material relics, and alternative modes of production of the past.
Such theoretical and practical concerns not only allow us to approach media arts with a fresh critical vocabulary, but also highlight the common grounds between archaeologically informed studies of media and artistic practices. Indeed, scholars such as Erkki Huhtamo have long credited media arts as an important instigator of media archeological research. Archaeological artistic practices may open alternative modes of production of the past, for they facilitate going beyond the linearity of writing, as Wolfgang Ernst claims.
Scholars and artists in various areas
By bringing together scholars and artists in various areas – from sound and moving images to digital textual and game forms, the Media Matter: Media-Archaeological Research and Artistic Practice conference will further discussions and reflexive engagement with how artworks have informed archaeological approaches. Equally important, it will also provide an opportunity to consider how the work done by media archaeologists have come to influence artistic engagements.
Venue: All sessions are held in F-Salen lecture hall at Filmhuset (The Swedish Film Institute).
Address: Borgvägen 1-5, Stockholm.
For additional information, contact the organizers at mediaarchart@gmail.com
Sponsored by the Department of Culture and Aesthetics and the Department of Media Studies, Stockholm University.
Organizing committee: Doron Galili, Thomas Götselius, Christer Johansson, Trond Lundemo, and Jörgen Skågeby.
Programme
Wednesday, 27 November
13:00-13:20
Opening remarks: Doron Galili (Stockholm University)
13:20-15:00
Panel 1: Media Reappropriations and Reconfigurations
Ulrich Meurer (Central European University, Vienna), "A Landscape Many Degrees Below Proof (Where Media Archaeology Meets Late Capitalism)"
Wing Ki Lee (Hong Kong Baptist University), "If Faded Remains (Rumor has it): Media-Archaeological Research and Artistic Practice"
Sara Callahan (Department of Culture and Aesthetics, Stockholm University), "Muybridge in Motion: Contemporary artistic references to the Locomotion images"
Per Israelson (Department of Culture and Aesthetics, Stockholm University), "Blazing Worlds: Practical pastness and the Living Memory of Comic Books in Alan Moore's League of Extraordinary Gentlemen"
15:15-16:25
Keynote presentation: Wolfgang Ernst (Humboldt University, Berlin), "Close to the Signal: Radical Media Aesthesis"
Reception for conference participants
19:00
Artistic performances at Fylkingen New Music and Intermedia Art center
(address: Torkel Knutssonsgatan 2).
Featuring a concert by Jin Sangtae, screenings by Lina Selander and Oscar Mangione, video works by Joel Danielsson and Louise Öhman, and sound installation work by Ola Nilsson
Thursday, 28 November
09:15-10:35
Panel 2: Media Apparatus I – Bodies and Affordances
Karin Becker (Stockholm University) and Geska Brečević (independent artist, Sweden), "Excavating the Fotoescultura"
Benoît Turquety (University of Lausanne), "Footwork: Pedals in Media History"
Hugh Davies (RMIT University, Melbourne), "Material Affordances of the Hand-Fan"
10:50-12:30
Panel 3: Collections, Preservation, and Material History
Frank Kessler (Utrecht University) and Sabine Lenk (University of Antwerp / Université libre de Bruxelles), "Material Preserved – Context Lost"
Florian Leitner (Humboldt University, Berlin), "The Voice(s) of Media Theater"
Jesper Olsson (Linköping University), "Organizing Ghosts: A Media Archaeological Analysis of The Archive for the Unexplained"
Lunch break
13:30-14:20
Conversation with guest artists Jin Sangtae and Oscar Mangione.
14:35-15:45
Keynote presentation: Trinh T. Minh-Ha (University of California, Berkeley), "The Sap That Matters"
16:00-17:00
Panel 4: Archaeologies of Cinema
John Fullerton (Stockholm University), "Rethinking the 'view aesthetic': the case of Gabriel Veyre"
John Sundholm (Stockholm University), "Bolex Befalls, Analogue Film Happens"
17:15-18:35
Panel 5: Sound Mediations
Harry Burson (University of California, Berkeley), "The Sound of Globalization: An Archaeology of Immersive Media at the World's Fair"
Rachel Hanlon (Deakin University, Australia), "Hello Machine - The Interplay of People and Things"
Jacek Smolicki (Linköping University), "Touching the Radio Tower. Doing Archaelogy of Mediations through Artistic Practice"
Friday, 29 November
09:30-10:55
Panel 6: Digital Media, Digital Humanities
Olivia Kristina Stutz (University of Zurich), "The Matter of Color Film Visualizations: Between Media-Archaeological Research and Digital Art"
Katherine Groo (Lafayette College), "Art Autoencoded: Neural Aesthetics, Analog Historicity, and Quasi-Indexical Futures"
Hugo Ljungbäck (University of Wisconsin-Milwaukee), "Clouds, Cables, and Compression: Making Sense of Data Centers Through Matt Parker's Video Art"
11:10-12:50
Panel 7: Natural Histories and Futures
Liam Cole Young (Carleton University, Ottawa), "Salt: Fragments from the History of a Medium"
Gert Jan Harkema (University of Groningen), "Revisiting the Diorama Dispositif: The Staging of Anthropocentricism and Eco-criticism"
Joakim Wrethed (Stockholm University), "Matter, Screens, Buffering, Veils, Text and Texture in Tom McCarthy's Satin Island"
Stephan Struve (Carleton University, Ottawa), "A Deep Media History of TV Snow"
Lunch break
14:00-15:10
Keynote presentation: Erkki Huhtamo (University of California, Los Angeles) "The Cyborg Trail. On Media Archaeology as Topos Study"
15:25-16:45
Panel 8: Media Apparatus II – Occluded Lineages and Cultural Histories
Rudi Knoops (Alamire Foundation / KU Leuven / media artist), "Cylindrical Anamorphosis, Seventeenth Century Mixed Reality Engine"
Eric Faden (Doshisha University, Kyoto / Bucknell University), "Kami Firumu: Studying Japanese Paper Films"
Diego Cavallotti (University of Cagliari), "Collective Debris and the Archive: An Ecology of Radical Media Practices
16:45-17:00
Closing remarks
Conference Participants
Keynote speakers
Wolfgang Ernst is Professor for Media Theories at Humboldt University Berlin. His research focus covers media archaeology as method, theory of technical storage, technologies of cultural transmission, micro-temporal media aesthetics (chronopoiesis), critique of history as master discourse of cultural and technological time, and sound analysis from a media-epistemological point of view (time objects and time signals). His recent books include: Digital Memory and the Archive, Sonic Time Machines. Explicit Sound, Sirenic Voices and Implicit Sonicity, and Chronopoetics. The Temporal Being and Operativity of Technological Media.
Trinh T. Minh-ha is a filmmaker, writer, composer and Professor of Rhetoric and of Gender & Women's Studies at the University of California, Berkeley. Her work includes numerous books, such as D-Passage: The Digital Way; Elsewhere, Within Here: Immigration, Refugeeism, and the Boundary Event; Cinema Interval; and Woman, Native, Other: Writing Postcoloniality and Feminism, as well as eight feature-length films, including Forgetting Vietnam, Night Passage, The Fourth Dimension, Shoot for the Contents, and Surname Viet Given Name Nam.
Erkki Huhtamo is Professor at the University of California Los Angeles (UCLA), Departments of Design Media Arts, and Film, Television, and Digital Media. He received his Ph.D. in cultural history from the University of Turku, Finland. Huhtamo is an internationally renowned media historian and theorist, and also a specialist in the history and aesthetics of media arts. He has curated numerous exhibitions in Europe, the United States and Australia and his most recent books are Media Archaeology: Approaches, Applications, and Implications (ed. with Jussi Parikka,) and Illusions in Motion: Media Archaeology of the Moving Panorama and Related Spectacles.
Guest artists
Jin Sangtae is one of the pivotal musicians of the Seoul South Korean electronic and improvised music scene. He performs with non-musical objects collected through his experience, projected into instruments, and then re-organised into the space. He uses hard drives and several materials that can be connected as his main instruments, and he also plays laptops, radios, car horns and electronics.
Oscar Mangione is an artist, based in Stockholm. From 2006 to 2012 he edited and wrote for the magazine and art project Geist and took part in numerous exhibitions, performances, and projects in venues such as the Reykjavík Arts Festival, the Museum of Modern Art in Stockholm and the Venice Biennale 2009. A frequent collaborator with Lina Selander, together they have participated in several exhibitions.
Lina Selander is a photographer, filmmaker, and installation artists based in Stockholm. Her work explores historical junctures in the history of media technologies and political systems, as well as the condition of images as memories, imprint, and representations. Her work has been shown internationally, including in Moderna Museet and the 2015 Venice Biennale.
Joel Danielsson and Louise Öhman, working as artistic duo, working on moving images but also touching on photography, text, sound, objects and spatial installation. Through that, they explore a circumscribed theme, which has a re-occurring interest in the ontology of the image. Their work focuses on the haunting movement, the movement over time and its corruption and continuation.
Ola Nilsson is an artist, based in Stockholm, who primarily works with sculptural objects, installations, sound art, sound-text art and text art. His recent work addresses issues of language, identity, communication and memory. An interest that pervades many works of these is the pedagogical situation created by my work when coming into contact with the audience/visitors, as he relates to these structural elements as aspects of performativity. He works as an art consultant with public site-specific art for Swedish Artists Centre and Nacka Municipality and is a member of Fylkingen.
Presenters
Karin Becker is professor emerita of media studies at Stockholm University. Originally based in the US, her early research focused on documentary photography and photojournalism in the US and its European influences. She has investigated a broad range of visual media forms and practices, and has led major research projects on global media events and art installations as mediated through public space. Since 2008, her research has included collaboration with the artist duo Performing Pictures in Sweden and southern Mexico. Her most recent work is an analysis of visual coverage of protest in the context of global television news channels.
Geska Helena Brečević is an artist, filmmaker and researcher working mainly in Sweden, Mexico and Croatia. In 2004 she and Robert Brečević formed Performing Pictures. Together they make film and video installations that blur the line between still and motion media and presented in more than 20 solo and 50 group shows as well as commissions for several permanent public art installations. Geska is currently the artistic director of Film Capital Stockholm's project Smart Kreativ Stad investigating new perspectives on moving images in public space.
Harry Burson is a PhD candidate in Film & Media with a Designated Emphasis in New Media at UC Berkeley. His dissertation is on the histories of stereophonic sound, tracing the emergence of immersive media from virtual reality to sound art. He holds an M.A. in Film & Media from UC Berkeley.
Sara Callahan is an associate professor and postdoctoral researcher at the Department of Culture and Aesthetics at Stockholm University. She received her PhD in 2018 with a thesis analyzing the notion of the archive in contemporary art and discourse. She has just started work on a postdoctoral project focused on the role and function of Eadweard Muybridge's locomotion images in recent visual culture.
Diego Cavallotti is lecturer at the University of Cagliari (Italy), where he teaches Media Education. He is one of the coordinators of the FilmForum International Conference and Spring School in Udine-Gorizia (Italiy). He is the author of two books: Cultura Video. Le riviste specializzate in Italia (1970-1995) and Labili tracce. Per una teoria della pratica videoamatoriale.
Ian Christie is Professor of Film and Media History at Birkbeck, University of London. He was writer and co-producer of the BBC TV series The Last Machine. His recent books include The Art of Film: John Box and Production Design and the forthcoming Robert Paul and the Origins of British Cinema.
Hugh Davies is an artist, curator and researcher. His practice explores histories of media devices and cultures of play in the Asia Pacific Region. Awarded a PhD in Art, Design and Architecture from Monash University in 2014, Hugh's work has been supported with fellowships from Tokyo Art and Space, M+ Museum of Visual Culture and the Hong Kong Design Trust. Davies is currently a postdoctoral research fellow at RMIT in Melbourne, Australia.
Eric S. Faden is an Associate Professor of English and Film/Media Studies at Bucknell University in Lewisburg, PA. He studies early cinema and digital image technologies. His research has appeared in Early Popular Visual Culture, Strategies, Convergence, The Journal of Film and Video plus the anthologies Arret Sur Image and The Routledge Companion to Remix Studies. He also creates film, video, and multimedia works that imagine how scholarly research might appear as visual media and that are distributed commercially by Third World Newsreel and The Media Education Foundation and published in on-line journals Vectors, Mediascape, The Cine-Files, and [in]Transition.
John Fullerton is Professor Emeritus of Cinema Studies at Stockholm University. He is author of Picturing Mexico: From the Camera Lucida to Film, editor of Screen Culture: History and Textuality, and editor with Jan Olsson of Allegories of Communication: Intermedial Concerns from Cinema to the Digital.
Katherine Groo is an assistant professor in Film and Media Studies at Lafayette College. Her essays have appeared in Cinema Journal, Discourse, Framework, and Frames, as well as numerous edited collections. She is the author of Bad Film Histories: Ethnography and the Early Archive (University of Minnesota Press, 2019) and co-editor of New Silent Cinema (Routledge/AFI, 2015).
Rachel Hanlon holds a Bachelors, and First Class Honours Degrees in Visual Arts, and is currently a PhD Candidate at Deakin University, Australia. Her works make available layered metaphors and meanings through reinterpretations of obsolete technologies that are heightened by our cultural reliance on them as a part of the narrative of our times. Hanlon's interest in the re-articulation and appropriation of found materials, explored through creative art practices that utilise media archaeological methodologies, reveal and inform the way the complexities of past and present are understood and experienced.
Gert Jan Harkema is research affiliate at the University of Groningen (the Netherlands) and the University of the Free State (South Africa). He graduated this fall with a PhD at Stockholm University, writing on cinema's earliest viewing experiences as aesthetic experiences of presence. He is currently working as a project on nineteenth-century mechanical theater, ecology and media events.
Per Israelson defended his PhD thesis Ecologies of the Imagination: theorizing the participatory aesthetics of the fantastic at the Department of Culture and Aesthetics, Stockholm University, in 2017. He has written extensively on the literature of the fantastic, children's literature, and comics as a researcher and as a critic.
Frank Kessler is a professor of Media History at Utrecht University and currently the Director of Utrecht University's Research Institute for Cultural Inquiry (ICON). He is a co-founder and co-editor of KINtop. Jahrbuch zur Erforschung des frühen Films and the KINtop-Schriften series. He participates in the research project "B-magic" and is the project leader of "Projecting Knowledge – The Magic Lantern as a Tool for Mediated Science Communication in the Netherlands, 1880-1940".
Rudi Knoops is a media artist, he has a PhD in Media Arts, and he has been a lecturer in Experimental Media and Media Archaeology at LUCA School of Arts/KU Leuven. His practice-based PhD research used a media archaeology inspired methodology of short-circuiting past and present to gauge the affordances of the 17th century media technology cylindrical anamorphosis and its significance for how we engage with the techno aesthetics of contemporary society. He currently coordinates the Library of Voices, an interdisciplinary research laboratory of the Alamire Foundation, focusing on virtual acoustics, 3D sound and mixed reality, located at Park Abbey, Heverlee, Belgium.
Wing Ki Lee is an artist-researcher based in Hong Kong. His artistic practice lies between documentary photography, artistic and archival research and a contemporary take to the analogue photographic practice. Recent exhibition includes WMA Masters Award (Hong Kong) and KG+ SELECT, Kyotographie (Japan). He is an Assistant Professor cum BA (Hons) Visual Arts Programme Director at the Academy of Visual Arts, Hong Kong Baptist University and a curatorial member of 1a space, an independent art space in Hong Kong.
Florian Leitner works as associate professor at the Humboldt University of Berlin, where he is director of the Medientheater. He worked as assistant director, dramatic adviser and screenwriter, studied Dramaturgy in Munich and Paris and was a fellow at the doctoral school "Bild – Körper – Medium. Eine anthropologische Perspektive" at Karlsruhe University of Arts and Design. His dissertation "Medienhorror — Mediale Angst im Film" ("Media Horror — Media Anxiety in Film), supervised by Gertrud Koch, was published in 2017 at Fink Verlag.
Sabine Lenk is a film archivist and media historian. She worked for film archives in Belgium, France, Luxemburg, Great Britain, and the Netherlands. From 1999-2007, she was the director of the Filmmuseum Düsseldorf (Germany). Since 2018 she is a researcher at University of Antwerp and Université libre du Bruxelles for the project B-magic. The Magic Lantern and Its Cultural Impact as Visual Mass Medium in Belgium (1830-1940), which she co-authored. She is a co-founder and co-editor of KINtop, KINtop-Schriften, and KINtop Studies in Early Cinema.
Hugo Ljungbäck is a video artist, film curator, and media scholar. His research focuses on the intersection of video art, surveillance, media archaeology, and labor, and his videos have screened at national and international film festivals and galleries. He is an Undergraduate Research Fellow at the University of Wisconsin-Milwaukee and Chair of the UWM Moving Image Society.
Ulrich Meurer is Teaching Fellow at the 'Visual Studies Platform' at Central European University in Vienna. He has taught Media and Film Studies at several universities in Germany, Austria, and Hungary as Visiting and Associate Professor, and he has published widely in the fields of film philosophy, politics of the moving image, intermediality and media archaeology. His current research project, "Gold Ground / Silver Screen", initiated last year at Princeton, analyzes the points of contact between Byzantine art, late antique visuality and the aesthetic features of post-cinematographic screen media.
Jesper Olsson is a Professor of Language and Culture, with a focus on Literature and Media History, at Linköping University, where he leads the research group Literature, Media History, and Information Cultures (LMI).
Stephan Struve obtained his MA at the School of Communication at Simon Fraser University, exploring the role of the media in hyping genomic science and focusing on the public understanding of genetic science. For his doctoral dissertation at Carleton University, Stephan examines the material relationship between bodies, media, and infrastructure. His specific interest is in the role of deep media histories in contemporary analyses and explanations about embodiment and digital technologies.
Olivia Kristina Stutz is a PhD student in the FilmColors project at the University of Zurich, funded by an Advanced Grant of the European Research Council and lead by Professor Barbara Flueckiger. Her research is concerned with the interrelation between color film technologies and color film aesthetics from the 1890s to the 1930s with a special focus on film materiality and its specific material aesthetics.
Benoît Turquety is a professor in the film department at the University of Lausanne, director of the SNF research project on Bolex and amateur cinema, and of the EPIMETE/digital media epistemology research axis. Educated as a film technician at the Louis-Lumière National Cinema Engineering School, he received a PhD from the University Paris 8 in 2005. He is a founding member of the Material Archival Studies Network, and part of the Dispositives research group, of the Network for Experimental Media Archaeology, as well as the Technology and the Humanities project. His most recent book is Inventing Cinema Machines, Gestures and Media History.
Jacek Smolicki is a Stockholm-based interdisciplinary artist, designer, researcher and "walker" exploring intersections of aesthetics, technology, documentation and everyday life. In his design and art practice, besides engaging with existing archives and heritage, Smolicki develops new techniques for mapping, (field-)recording, experiencing, and para-archiving human and other-than-human environments. Between 2020-2023 Smolicki will pursue an international postdoc project, funded by the Swedish Research Council, that explore the history and prospects of field recording and soundwalking from the perspective of arts, environmental humanities, and media archaeology.
John Sundholm is Chair of the Department of Media Studies and Professor in Cinema Studies. He is member of the examination board of the PhD program in Fine Arts at the University of the Arts, Helsinki, Finland since 2006, and Editor-in-Chief of the open access journal Journal of Aesthetics and Culture (Routledge). He also works as film programmer and organizes Scandinavia's only international experimental film event, AVANT, since 2002. www.avantfilm.se His most recent book, coauthored with Lars Gustaf Andersson, is The Cultural Practice of Immigrant Filmmaking Minor Immigrant Cinemas in Sweden 1950-1990.
Joakim Wrethed is Associate Professor in the Department of English in Stockholm University. He has hitherto mainly worked in Irish Studies but he also explores the contemporary novel in English more generally without any primary emphasis on national boundaries. His current research involves the function of technology in select contemporary novels. Phenomenology, postmodernism, aesthetics and theology are overarching topics of his scholarly work. His recent publications have been on Tom McCarthy, aesthetics, and the posthuman zeitgeist.
Liam Young is Assistant Professor in the School of Journalism and Communication at Carleton University in Ottawa, Ontario, Canada. He is the author of List Cultures: Knowledge and Poetics from Mesopotamia to BuzzFeed and a former fellow at the Internationales Kolleg für Kulturtechnikforschung und Medienphilosophie (IKKM) at the Bauhaus University.