Tech Tuesday på temat "Edge intelligence: from theory to practice"
Seminarium
Datum: tisdag 4 april 2023
Tid: 08.30 – 09.30
Plats: Rum L30, DSV, Borgarfjordsgatan 12, Campus Kista
Välkommen till Tech Tuesday 4 april. Javid Taheri, Institutionen för data- och systemvetenskap, presenterar färsk forskning om edge computing, AI och maskininlärning.
Tech Tuesday är ett månatligt frukostevenemang som genomförs av Kista Science City. Syftet är att forskare och praktiker ska dela kunskap om de senaste techtrenderna. Institutionen för data- och systemvetenskap (DSV) vid Stockholms universitet står som värd för Tech Tuesday i april 2023.
Professor Javid Taheri kommer att dela med sig av sin forskning om edge intelligence, ett område som har implikationer på utvecklingen inom såväl autonoma fordon som smarta städer.
Det är kostnadsfritt att medverka, men antalet platser är begränsat.
Anmäl dig här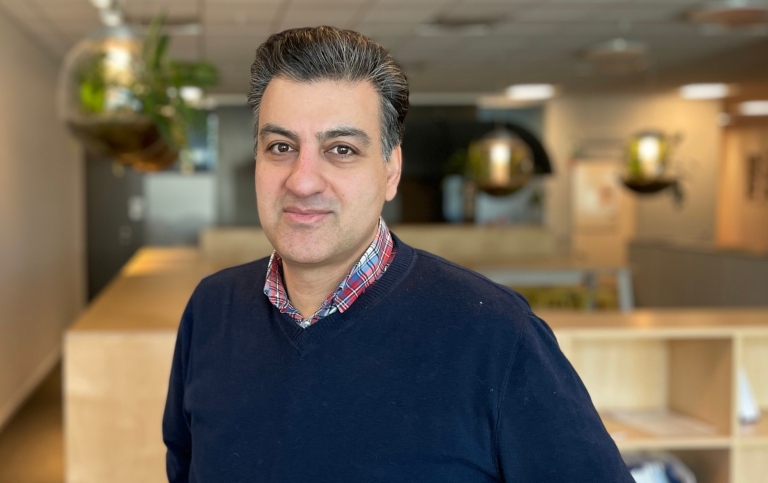 Javid Taheri. Foto: Åse Karlén.
Agenda
8.30 Frukost och mingel på DSV, Stockholms universitet
9.00 Jelena Zdravkovic, prefekt på DSV, och Karin Bengtsson, vd på Kista Science City, hälsar välkomna
9.05 Javid Taheri presenterar forskning på temat "Edge intelligence: from theory to practice"
9.20 Q&A
9.30 Mötet avslutas – på återseende!
Kort om temat "Edge intelligence: from theory to practice"
Edge computing is a new computing paradigm to address several shortcomings of currently deployed cloud computing services. It brings computing power closer to users where data is produced or need processing. Edge is a prerequisite for many technological advancements and application domains, including autonomous vehicles, Industry 4.0, and smart cities.
In this short presentation, Javid Taheri will talk about edge computing and its ties to artificial intelligence (AI) and machine learning (ML). The presentation starts from basics and gradually advances to how AI and ML concepts can help, or benefit from, edge computing platforms. The presentation also covers current industrial and academic challenges, as well as the most relevant research topics.
Kort om talaren
Professor Javid Taheri has recently joined the Department of Computer and Systems Sciences (DSV) at Stockholm University. Prior to this appointment, he held a full professor position at Karlstad University. He received his PhD in mobile computing from University of Sydney, Australia in 2007, and his research interests include cloud computing, edge/fog computing, and AI-based optimization techniques. He is currently leading two research projects on edge-computing related topics in direct collaboration with Ericsson (Kista). He is the lead author of the upcoming textbook "Edge Intelligence: From Theory to Practice" (Springer, 2023).
Varmt välkommen!
Så här hittar du till DSV – Campus Kista
Senast uppdaterad: 14 mars 2023
Sidansvarig: Institutionen för data- och systemvetenskap, DSV