EST School Contest
The Institute for Solar Physics encourages Swedish secondary school (i.e. Swedish högstadium, 14-16 years) students to participate in the International Educational Infographics Contest, arranged by the European Solar Telescope (EST).
Students from all over Europe are in this competition invited to research different subjects related to our star and help us build the EST Solarpedia, an open educational resource about the Sun. The aim is to design an infographic where the Sun is the protagonist. The students get to choose their phenomenon of interest and then present it in a creative way.
The two best groups will win a trip to the Teide Observatory, located on Tenerife (Canary Islands, Spain). The third best group will win an H-alpha solar telescope.
Read more about the contest here.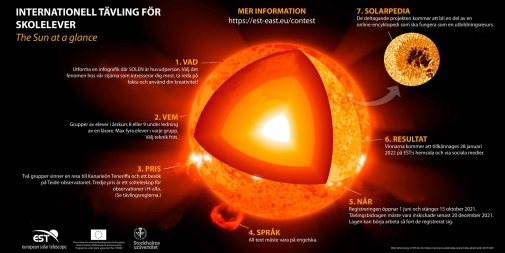 Last updated: June 1, 2021
Page editor: Moa Skan
Source: Institute for Solar Physics