PhD-Event 2020
EVENT
Date:
23 October 2020, 9.45 AM
-
23 October 2020, 5.10 PM
Venue:
Vivi Täckholmssalen/Online
We are very happy to invite all of you to this year's PhD-Event "Confluence - uniting science for a better tomorrow" organized by the PhD-students at the Department of Molecular Biosciences happening on 23/10/2020.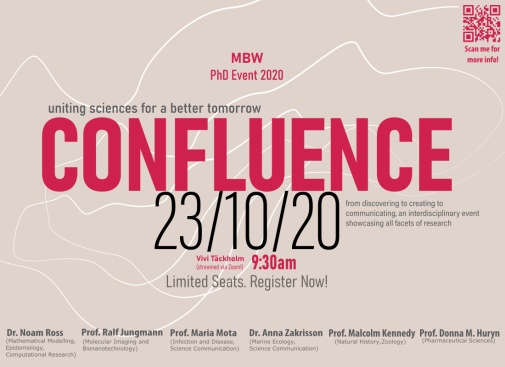 Following the topic of confluence, we have put together a symposium of extraordinary speakers from around the globe, researching different scientific topics across disciplines. We are very excited that they will share and discuss their work with us. With this event we aim to contribute to inter-disciplinary as well is inter-hierarchical scientific communication by creating this very inclusive event!

We specifically want to engage the youngest generation of us, PhD students, to participate in an active discussion, which is why in-person attendance (which is limited to 50 seats due to the current pandemic) is prioritized for PhD students over Post-Docs, PIs and Professors. Online-participation however is unlimited and everybody is welcome to listen to the talks and participate in the discussion. Nonetheless, you can state your preference (online or in-person) in the registration form independent of your position and you will be notified if there is space available latest by the 20th of October.

Ensure your chances of a seat in case of availabilities and/or receive the link to the online sessions by registering here.
You can find the schedule for the event including more information about the invited speakers in the attachment.
We hope many of you will join us and participate in the fruitful interdisciplinary discussion!
Last updated: October 1, 2020
Source: MBW