Confluence: uniting sciences for a better tomorrow
Confluence, a flowing together of two or more separate things, perhaps two rivers. Or it can denote the degree of substrate coverage in cell culture. Or, it can be a place of junction, where people, ideas, and concepts can merge and create a sort of unity and understanding. In science, we must learn to successfully communicate and exchange ideas across scientific disciplines and engage in effective discussion. This year's Stockholm University, Molecular Biosciences Wenner-Gren Institute PhD Event was on Friday, October 23rd, 2020, and it aimed to do just that, bring people together with cross-disciplinary interests so that we as a community can explore what we call, Scientific Confluence.
On Friday, October 23rd, there was a PhD event hosted by the PhD council of MBW, Stockholm University which was entitled, Confluence, uniting sciences for a better tomorrow. The event aimed to invite speakers across a variety of scientific and interdisciplinary fields to find new connections across divisions of science like physics or chemistry but also divisions of learning, including economics, politics, feminism, communication, and business. The speakers included Prof. Ralf Jungmann from the Max Planck Institute, Germany; Prof. Maria Mota from the Instituto de Medicina Molecular, Portugal; Prof. Malcolm Kennedy, University of Glasgow, Scotland; Dr. Noam Ross, EcoHealth Alliance, NY, USA; Prof. Donna M. Huryn, University of Pittsburgh, USA; and Dr. Anna Zakrisson, Doctor Anna's Imaginarium, Germany. The first talk of the day by Prof. Ralf Jungmann detailed an innovative technique called "DNA-Paint," which aids in creating highly detailed images using advanced microscopy techniques; "…with much better probes we hope to visualize molecules without prior knowledge," explained Prof. Jungmann. Prof. Maria Mota elucidated the intricate host-parasite interactions between the Malaria parasite and humans, for example, human diets can affect the success of the parasite's infection. Further, Prof. Mota questioned, "are vaccines truly the only answer to prevent severe malaria in its most infected regions?," thus highlighting the importance of understanding the parasite's biology and host response. She further hosted a session on science communication and stressed the importance of opening a dialogue between scientists and the general public. This discussion was followed by a session with Prof. Malcolm Kennedy, whose intricate talk led us through a journey of his various research interests and fortuitous mishaps that helped him create a red thread in his life's work—from allergens to understanding parasitic nematode (worm) behavior to placental development of horses!
In the second half of the day, Dr. Ross gave us further insight into how COVID-19 developed, talked about open-source computer programs and data collection, and discussed how his work impacts policymakers and economies. Dr. Ross left us with a sobering message to consider, "global antimicrobial resistance is emerging from regions that have more antibiotic consumption, indicating emergence of new evolutionary events." With increased use, antibiotics can be rendered ineffective if pathogens "mutate" or learn to become resistant to these lifesaving drugs. On the topic of new drug development, Prof. Huryn followed up the next session which not only showed the development of new drugs that can be effective in kidney disease, but she also discussed how her work traverses both academia and industry and elevated the importance of women joining sciences and networking. Finally, we finished up our last session with a talk by Dr. Zakrisson, an SU alum who started her own science outreach company, Doctor Anna's Imaginarium. She highly encouraged students to learn how to market their brand/product, learn the ins and outs of business, and learn SEO (Search Engine Optimization) for how to enhance one's searches in Google or other search engines—skills heavily overlooked in science. A final message she shared was to follow your dreams and not to be afraid of criticisms from people who question your goals or work. A PhD student who attended the event, Albin Widmark said, "This was a great event which helped me make connections between fields I had never thought about, as well as consider potential new paths in my scientific journey. I was particularly motivated by the speech about saving biodiversity." After a full day of thought-provoking and encouraging discussions, the PhD students of MBW finished off the day with dinner at Stora Skuggan Värdhus.
The event was organized by Alexis Dziedziech, Thomas Grochalski, Franziska Hildebrandt, Laveena Kansara, Ana Pinheiro, Emily Ross, and Kanwal Tariq. The whole MBW PhD Council thanks the department for supporting the event.
-Alexis Dziedziech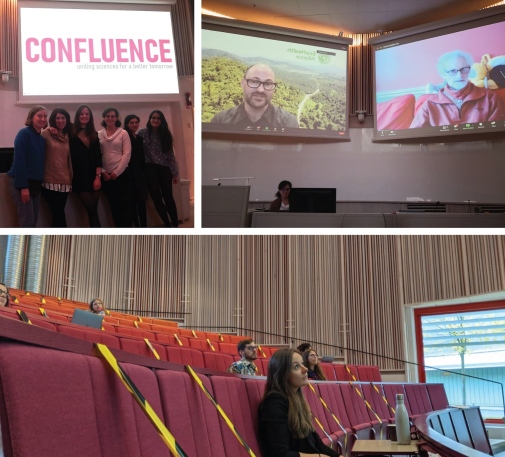 Last updated: November 30, 2020
Source: MBW