Nobel laureate James Allison and Padmanee Sharma visit MBW
The PhD Students of MBW hosted one of the Nobel laureates in Physiology or Medicine 2018, James Allison, Ph.D. and his long-time collaborator and wife, Padmanee Sharma, M.D., Ph.D.. The event was filled with inspiring science and insightful discussions.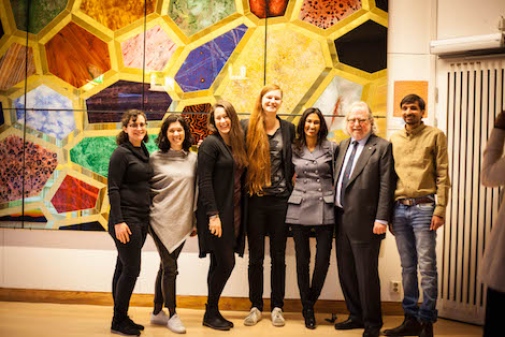 "I didn't wake up every day thinking about curing cancer. I woke up every day thinking about how T cells are regulated,"—James Allison's enthusiasm for basic research is infectious. On Dec 8, 2018, the PhD students of the Department of Molecular Biosciences had the opportunity to catch some of that enthusiasm. They hosted an event with James Allison, Ph.D., who won half of the 2018 Nobel prize in Physiology or Medicine. Together with his collaborator and wife, Padmanee Sharma, M.D., Ph.D., he took the time to meet with PhD students of the department for an informal group discussion. "It was a unique and exclusive opportunity to pick the brains of such passionate researchers. Their lives and careers are very inspiring and it is great to see how hard work like his can pay off," says Alexis Dziedziech, one of the students attending the event. Sharma stressed the importance of Science Communication and the art of grantsmanship. Especially in basic science, we need to be able to explain what our aims are in simple terms. Not just in order to obtain grants, but also in order to communicate with the clinicians. There has to be a continuous exchange between basic and applied science.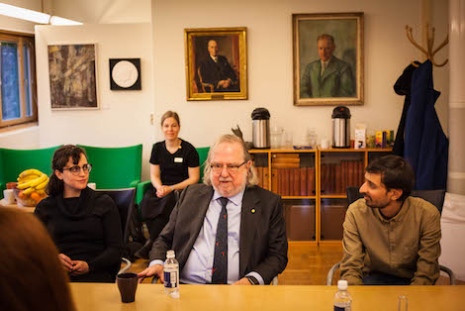 Persistence is key. As one of the pioneers in the field of Immunotherapy for Cancer Treatment, Allison faced skepticism for a long time. In the beginning, none of the clinicians gave this kind of therapy any merit. Allison kept true to his convictions and eventually found a company that would produce an antibody to inhibit CTLA-4, a protein which pushes the breaks on T cells' response to cancer. Inhibiting CTLA-4 allows the T cells to remain activated so that they may continue fighting. "Winning the Nobel prize [together with Tasuku Honjo] is not just a personal achievement, but a recognition of our whole field," said Allison.
Another encouraging piece of advice was to give value to "negative data". If you don't find a positive effect, negative data will still tell us a lot about how a system works. As scientist, we collect data based on a hypothesis and suitable experimental design. However, once we have collected it, we need to look at the data from every possible angle and search for all possible explanations. Otherwise, we might miss out on important details - or maybe even a Nobel prize.
The meeting was followed by a talk for the whole department. The vivid discussion from the audience reflected their shared passion for science. The event ended with a short mingle for all attendees with Allison and Sharma. MBW wishes James and Padmanee all the best for their future research into bringing the response rate of cancer patients to immunotherapy from 60% up to 100%!
Jutta Diessl
Last updated: February 28, 2019
Source: MBW