Researchers at MBW sampling Stockholm Subway
Scientists affiliated with MetaSUB, a global drive to chart commuter-exposed microbiomes, are currently sampling in the Stockholm subway system. The project is a unique collaboration between the Stockholm county (SLL) authority's transit authority (SL) and Stockholm University of MetaSUB.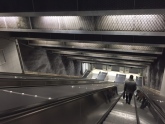 Researchers Klas Udekwu and Per Ljungdahl with their research teams at the Department of Molecular Biosciences, the Wenner-Grens Institute belong to the MetaSUB consortium, sampling, identifying and visualizing microorganisms in the subway systems worldwide.
MetaSUB is an international consortium of laboratories worldwide that work on the establishment of a global DNA metagenomic map over subway systems with the ultimate goal of translating results from these studies into changes in urban design that leads to reduced spread of pathogenic microorganisms while maintaining the organismal diversity necessary for healthy living. Stockholm is one of the many cities (46 and counting) including New York, Sao Paulo, Shanghai and Moscow that will be monitored continuously over a 5 year period. Sampling will be carried out during different seasons, under varying weather conditions and volume of passenger traffic.
The first sampling in Stockholm Subway will be at March 15 and 16.
Last updated: March 14, 2016
Source: MBW