SU researcher won science pitching competition in Finland
Johan Seijsing, researcher at The Department of Molecular Biosciences, The Wenner-Gren Institute, Stockholm University was the best at in three minutes pitch his research idea on a new way of fighting antibiotic resistant bacteria. In the final of "Skolar Award 2017" held in Helsinki at the entrepreneur conference "Slush" Johan received the main prize, a 100 000 euro research grant.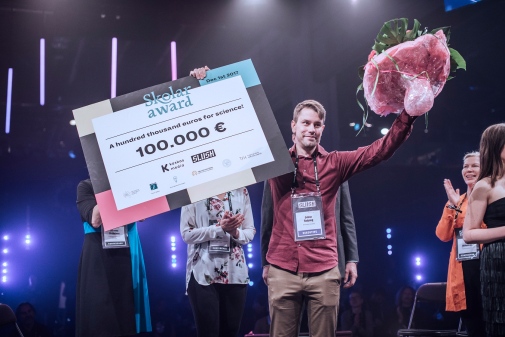 "As a post-doc you have a hard time to get money for research, you always feel the knife against your throat. This award enables me to concentrate fully on my idéas", Johan Seijsing says.
Over 700 000 people die every year from drug resistant infections. By the year 2050 this number is estimated to be 10 million. The demand for new types of antibiotics is urgent. Johan Seijsing´s research idea is to develop enzymes that degrade the cell walls of bacteria. In the long run these enzymes can be used as a protein-based drugs against antibiotic resistant microbes.
"We are using enzymes from a special type of virus that naturally attacks bacteria. After infection when the virus has multiplied inside the bacterium it uses these enzymes to degrade the bacterial cell wall to get out. Literally the bacterium pop like a balloon", Johan explains.
To be able to use these enzymes as future drugs it is valuable that they are stable enough to be stored in a fridge in the hospital. It is also of high importance for the enzyme to fight a specific bacterial species with high efficiency.
"To achieve this we will develop large libraries with millions of enzyme variants. With a highly sophisticated method we can sort out the enzyme that works best. Right now we are at a stage where we have all modules and reagents of the system ready and can start to assemble them", Johan says.
"Skolar Award" is an international science pitching competition. Held in Helsinki, Finland December 1st 2017, the event was arranged as a part of the entrepreneur conference "Slush". The ten finalists were competing for the main prize of 100 000 euros.
"My goal was of course to win, but when I saw the pitches from the other finalists I realized that it was going to be hard", Johan says.
In the spotlight on a circular stage the participants got three minutes to convince the jury why to venture their research project in particular. The jury, consisting of entrepreneurs, venture capitalists and professors reached the decision quite easily.
"Antibiotic resistance is one of the big problems we're facing and it's getting worse and worse and worse if we don't solve it," says a jury member, professor of non-fiction studies Pirjo Hiidenmaa in a press-release.