100 million for a healthier Baltic Sea
The Baltic Sea Centre formed a strategic partnership with BalticSea2020 in February. The foundation decided to allocate 100 million SEK to further develop the Centre and make sure useful knowledge is forwarded to the right place in society.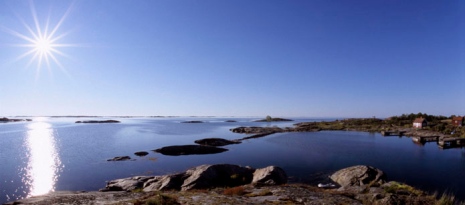 Photo: Jerker Lokrantz/Azote
"We are very pleased with the substantial grant for Stockholm University's new investment," says Astrid Söderbergh Widding, Vice-Chancellor at Stockholm University. "Marine research has long been a leading research area at the University and we have a long tradition of powerful Baltic Sea research. Also, the University's openness and desire to communicate with the surrounding community become clear through this strategic partnership."
"Stockholm University has built a base that we believe in," says the founder of the foundation, Björn Carlson. "Stockholm University Baltic Sea Centre's future expansion, with a combination of experts and communicators with a broad network of marine researchers, will help solve the serious environmental issues in the Baltic Sea, which is the goal of all of the foundation's activities."
The grant is worth SEK 20 million per year for five years, and will be used for several positions for analysis, synthesis and communication. There will also be funding to put together several creative groupings during peak periods which can work on important issues that can help fitting all the Baltic Sea pieces together.
"For natural reasons, research and environmental monitoring are characterised by a silo effect, where prominent and world-leading activities are marked off from its surrounding disciplines," says Tina Elfwing, Director at Stockholm University Baltic Sea Centre. "With a holistic perspective, we will now try to gather all this knowledge and with directed communication we can reach the appropriate stakeholders in society. Long-term analyses, syntheses and evaluations, which are necessary for the society's knowledge provision, will contribute to the design of science-based measures that can actually improve the Baltic Sea's environmental status."
Stockholm University Baltic Sea Centre is an independent unit within Stockholm University with a board consisting of four members from Stockholm University and three external members, one of whom is the chairman of the board.
Read more about the BalticSea2020
To the pressrelease in Swedish
Last updated: March 5, 2013
Page editor: Nastassja Ekelöf
Source: Baltic Sea Centre