Bolin Centre and Baltic Sea Centre meeting
30 experts from the Bolin centre for climate research and the Baltic Sea Centre met for two days in late January to discuss possible synergies, infrastructure use and on-going research.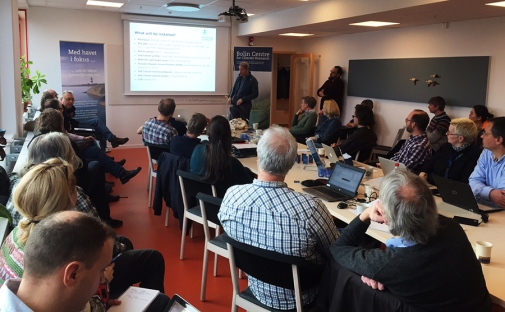 The Bolin Centre for Climate Research is addressing climate change issues on a global to regional scale and the Baltic Sea Centre's works to highlight and strengthen marine research and education available at the Stockholm University. The idea of a meeting between the two centres was to elaborate on common research questions such as:
How will climate change and changes in human lifestyles affect the Baltic Sea environment, ecosystems and resources?
What can we learn about climate and Earth system processes in general from the natural laboratory that is the Baltic Sea?
Extensive competence gathered
The topics discussed at the two-day meeting included earth system model development, ocean circulation, biogeochemical cycles, paleo-oceanographic issues, climate effects on marine ecosystems and landscapes wihin the Baltic catchment. Information was also presented on how the two centres are managed, funded and which databases and infrastructure resources they provide.
- After 16 scientific talks it was almost impossible to disentangle who is affiliated at the Bolin centre or at the Baltic Sea centre, says Christoph Humborg, scientific leader at the Baltic Sea Centre. That shows nicely how similar the backgrounds of our experts are! And obviously it makes this type of meeting a good ground for meaningful discussions about future projects.
Infrastructure as a platform to collaborate
Stockholm University will get a new research vessel during summer 2016 equipped with high-end research equipment for oceanographic, biological, chemical, physical, and geophysical research. Its resources and possibilities were presented at the meeting by Martin Jakobsson, head of Department at the department of Geological Sciences and member of the Bolin Centre.
- This research vessel constitutes a new research platform for scientists allowing both in-shore and off-shore research cruises and the Bolin Centre researchers are prominent future users, says Christoph Humborg. Could the new research vessel in combination with the Askö field station develop into a marine and atmospheric observatory?
The centres will continue to talk about potential projects, joint funding applications and more meetings on specific subjects.
Presenters and topics:
Robinson Hordoir Changes in the Overturning Circulation of the Baltic Sea Towards the End of th 21st Century
Jonas Nycander Physical oceanography of the Baltic Sea
Alexander Sokolov Modelling of river plume dynamics in Öre estuary during 2015 field campaign
Volker Brüchert Sediment-water and sea-air exchange of methane in near-shore environments of the Baltic Sea
Jayne Rattray Application of lipid biomarkers as tracers for microbial processes
Rienk Smittenberg Application of lipid biomarker analysis of sedimentary records: reconstruction of redox conditions, eutrophication, carbon dynamics, paleoclimate and paleohydrology
Bo Gustafsson Cycling of Fe, P, and S under oxic/anoxic/euxinic conditions
Erik Gustafsson Carbon cycling in the Baltic Sea – process studies using the BALTSEM model
Sara Cousins Landscape effects in the Stockholm archipelago and it's effect on biodiversity
Bärbel Müller-Karulis Eastern Baltic cod reproduction – eutrophication effects in future and present climate
Maciej Tomczak Climate impact on Fish stocks in the Baltic sea – results from Ecosupport
Oleg Savchuk Cross-validation of remotely-sensed vs. BALTSEM-simulated phenological changes of the Baltic ecosystem
Thomas Andrén Paleooceanographic Baltic Sea research at Södertörn University
Xiaole Sun Temporal and Spatial variations of rock weathering in the Baltic Sea catchment
Sarah Greenwood Deciphering ice sheet dynamics and retreat mechanisms: the Bothnian Sea Ice Stream
Martin Jakobsson Can ground water explain mysterious seafloor features in the Baltic?
Richard Gyllencreutz Baltic Sea history at Askö - outreach project for gymnasium schools
Anders Moberg Bolin Centre Database
Alexander Sokolov Baltic Sea Database
Nina Kirchner & Jakob Kuttenkeuler Autonomous Underwater Platforms: From idea to development, testing and application
Barbara Deutsch The Askö Laboratory
Martin Jacobsson, Marc Geibel & Christoph Humborg The new research vessel
Christoph Humborg Baltic Sea Centre and funding opportunities
Alasdair Skelton Bolin Centre and funding opportunities
Last updated: February 1, 2016
Page editor: Nastassja Ekelöf
Source: Baltic Sea Centre