Programme and Abstract book
The printed version of the programme and all the abstracts, posters included, is now available on the webb.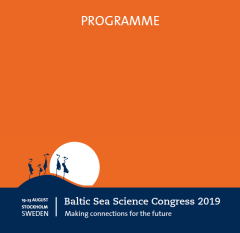 Programme
All of you will recieve a printed programmme at the registration.
It is also available on the webb with links to all the abstracts for the oral presentations.
But if you want to look at it beforehand you are welcome to download it here.

BSSC 2019 Programme (474 Kb) .
Abstract book
The printed Abstract book will be given to those of you who pre-ordered it when you registred to the congress.
The abstracts are also available via the day-to-day-programme on the webb and via the Session-presentation.
It is also available here as a pdf-file

Abstracts BSSC 2019 (1283 Kb) .
Last updated: August 15, 2019
Page editor: Annika Tidlund
Source: Baltic Sea Centre