Baltic nitrogen cycling and algal blooms during summer
The funding from BEAM 2015 has been used to finalize manuscripts that are based on work by a group of contributors since the beginning of BEAM in 2011. We focus on cyanobacterial blooms as important in element cycling and food web structures in the Baltic Sea.
How would you describe your project in a few sentences?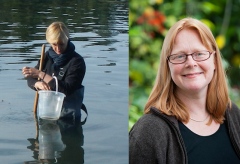 Extensive blooms of cyanobacteria (blue-green algae) occur regularly during summer in the Baltic Sea. Some of these cyanobacteria can to assimilate N2 gas and transform it into bio-available ammonium—a process called nitrogen fixation. Thereby, cyanobacteria add several hundred kilotons of new nitrogen into the Baltic Proper. This nitrogen load by cyanobacteria is similar in magnitude to the annual nitrogen load by riverine discharge and more than twice the atmospheric nitrogen deposition in this area. Nitrogen-fixing cyanobacteria are therefore believed to counteract eco-political efforts to reduce nutrient loading and eutrophication in the Baltic Sea. Our key questions are: Who is fixing nitrogen in the Baltic Sea, and when and where does fixation occur? What is the fate of the fixed nitrogen?
What are your most important results, and for whom are they particularly useful?
As a novelty, we quantified rates of N- and C-fixation at a single cell level of field-sampled Baltic Sea cyanobacteria, including N. spumigena, Aphanizomenon sp., Dolichospermum spp., Pseudanabaena sp. and colony-forming picocyanobacteria. Our results indicate that N. spumigena, Aphanizomenon sp., Dolichospermum spp. are indeed the only nitrogen-fixing organisms within the euphotic zone of the Baltic Proper. Most of the nitrogen fixation in the Northern Baltic Proper was contributed by Aphanizomenon sp. due to its high abundance throughout the summer. Nitrogen fixation was substantially higher near the coast than in an offshore region. We therefore propose that coastal zones are sites with substantially higher nitrogen fixation than commonly anticipated.
Up to half of the fixed nitrogen is released by the nitrogen-fixers to the surrounding water in the form of ammonium. We found that primary production during summer was surprisingly high considering the low concentrations of bioavailable nitrogen. This was explained by a rapid turn-over of ammonium of a few hours only and efficient transfer of released ammonium to nitrogen-starved, non-nitrogen-fixing phytoplankton.
How can it assist an ecosystem-based management of the marine environment?
Our results show that blooms of cyanobacteria are important for summer productivity by supplying ammonium to nitrogen-starving organisms during summer in the Baltic Sea. These findings moderate the negative view of cyanobacterial blooms as of low food quality, with detrimental effects on recreational use and water quality of the Baltic Sea. Thus, our research provides new insights in ecosystem functioning with relevance for Baltic Sea management decisions in terms of nutrient management and productivity.
Researchers and collaborators:
Co-ordinator: Helle Ploug, Stockholm University, Dept. of Ecology, Environment and Plant Sciences, Stockholm, Sweden and University of Gothenburg, Dept. of Marine Sciences, Gothenburg, Sweden
PhD: Isabell Klawonn, Stockholm University, Dept. of Ecology, Environment and Plant Sciences, Stockholm, Sweden
Postdoc: Nurun Nahar, University of Gothenburg, Dept. of Marine Sciences, Gothenburg, Sweden
PhD: Jennie Svedén, Stockholm University, Dept. of Ecology, Environment and Plant Sciences, Stockholm, Sweden
PhD: Malin Olofsson, University of Gothenburg, Dept. of Marine Sciences, Gothenburg, Sweden
PhD: Stefano Bonaglia, Stockholm University, Department of Geological Sciences, Stockholm, Sweden
Research assistant: Björn Andersson, University of Gothenburg, Dept. of Marine Sciences, Gothenburg, Sweden
Collaborator: Jakob Walve, Stockholm University, Dept. of Ecology, Environment and Plant Sciences, Stockholm, Sweden
Collaborator: Martin Whitehouse, Swedish Museum of Natural History, Stockholm, Sweden
Collaborator: Sten Littmann, Max Planck Institute for Marine Microbiology, Bremen, Germany
Last updated: December 4, 2015
Page editor: Nastassja Ekelöf
Source: Baltic Sea Centre