Popular seminar about the Baltic Sea underwater soundscape
EVENT
Date:
19 October 2017, 4.00 PM
-
19 October 2017, 7.00 PM
Venue:
P216, NPQ-building, Svante Arrhenius väg 20A
The research on underwater sounds and what impacts human induced sounds have on marine ecosystems is a relatively new and unexplored field. Yet it is an important dimension that affects the marine life in several ways, which professor Peter Sigray and Ph.D. Mathias Andersson presented during this Baltic Seminar.
19/10 Baltic Seminar: Is the sea silent?
This we know is not the case. Studies reveal that human induced sound is present in all oceans all the time and the trend is pointing toward a more intense use of the seas, which most likely will raise the noise levels even more. Noise is, according to EU, classified as a pollution but how does it affect the marine ecosystem? At this seminar Peter Sigray from MISU and the Swedish Defence Research Agency (FOI) and Mathias Andersson, FOI, gave an introduction to underwater sound, hearing of fish and mammals and potential impact as well as international efforts to mitigate underwater noise.
Ocean noise with harmful effects
Anthropogenic sounds, such as ship motors or wind power plants create underwater sounds that can be stressing and harmful to marine animals in different ways. Many species use sound for orientation and communication, functions that the anthropogenic noise interfere with. The speakers gave an example of when the mating calls of harbour porpoise and cod are masked by the background noise of boats.
- You can compare it to trying to talk to somebody in a loud bar. It's not the easiest way to communicate, Mathias Andersson explained.

The effects can also be physically injuring like hearing impairment, or even lethal for the inhabitants of the sea. The relation between marine mammals and the soundscape is explained in closer detail here.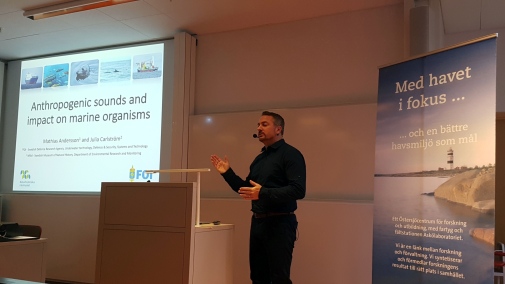 New research illustrates the sound map of the Baltic Sea
Along with the increased shipping traffic, the level of underwater noise has also increased. The recently finished research project BIAS has mapped the distribution of the noise sources which is now presented as a model of the Baltic Sea soundscape. The aim of the model is to facilitate governmental assessments of where ocean noise needs to be regulated. More research is required but tools like this help us move one step closer to understand and explain how human activities affect the Baltic Sea fauna.
About Baltic Seminar
Baltic Seminar is a seminar series aiming to promote current marine issues related to Stockholm University and strengthen its marine research community. All university employees and students are welcome, as well as affiliated who work with marine science!
Last updated: October 25, 2017
Page editor: Isabell Stenson
Source: Baltic Sea Centre