French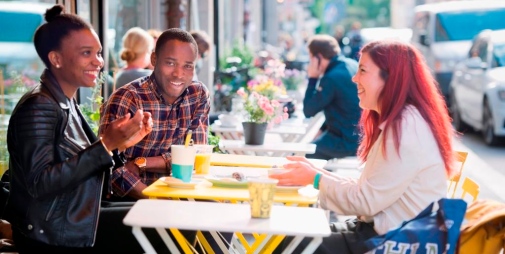 FRENCH is one of the major cultural languages of the world. About 80 million people speak French as their first language, and it is an official language in over thirty countries. French has been a natural language in international contexts for a long time – the UN, UNESCO, the EU and the African Union are just a few examples. Moreover, France has a long tradition as a bearer of culture in areas such as philosophy, the social sciences, art and literature (fifteen Nobel Prizes have been awarded to French-language authors), and the country is prominent in many other industries, including fashion, gastronomy and aeronautics.
In studying French, you will have the opportunity to read literary classics such as Balzac, as well as contemporary literature such as Modiano. In addition, you will have the opportunity to familiarise yourself with Francophone literature written outside France's borders. We will enable you to learn French in the best possible way. Many of our teachers conduct internationally recognised research in the fields of second-language acquisition, French literature, translation theory, discourse analysis and the history of language. This strong connection to research guarantees a high-quality, research-based education from the beginner level to the doctoral level.
In the introductory courses, you will train your oral and written proficiency and gain knowledge of literature, culture and society in the French-speaking world. At the higher levels, you will be able to specialise in literature or linguistics. Visiting foreign lecturers and authors are involved in the teaching, and regular exchanges are made with other universities for students, teachers and researchers. You can also take our study-abroad course, French I, in France. As a student of French, you will also have the opportunity to study at a university in France through one of our exchange programmes.
Entry requirements
General and specific entry requirements.
Specific entry requirement: French 3.
Labour market
Knowledge of French is an important and sometimes decisive qualification in areas such as domestic and foreign administration (e.g. in the EU), teaching, journalism, tourism and international work.
Degree
In order to receive a Degree of Bachelor with French as your main field of study, you can either take individual courses in French worth at least 120 higher education credits (including a degree project worth 15 credits), together with courses in other subjects worth 60 credits, or choose one of the following programmes:
Last updated: May 22, 2018
Page editor: David Garcia Lopez
Source: Department of Romance Studies and Classics