Fifth Baltic Student conference "Bridges in the Baltics" (Stockholm, 2017)
EVENEMANG
Datum:
06 oktober 2017 08:00
-
07 oktober 2017 17:30
Plats:
Section for Baltic languages
Welcome to the student conference!
Bridges in the Baltics - Fifth Baltic Student Conference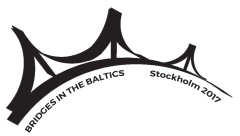 University of Stockholm, October 6 - 7, 2017
The Section for Baltic Languages at Stockholm University and University of Tartu are organizing the Fifth Baltic Student Conference "Bridges in the Baltics", to take place in Stockholm (Sweden) on October 6th – 7th, 2017.
The aim of the conference is to bring together students from different countries who are engaged in the Baltic studies, to give them the possibility to meet, present their academic work, learn from each other and make new contacts. The conference welcomes everyone who is currently pursuing a Bachelor's, Master's or PhD degree at any university in the Baltic states or elsewhere.
The conference will cover the following aspects of the society and culture of the Baltic countries:
language and linguistics
literature, folklore and arts
cultural and biographical studies
media, film and communication
history and memory
The working languages of the conference are Estonian, Latvian, Lithuanian, English and Swedish. The presentations can be given in any language mentioned above; however, the abstract and presentation slides are in English. There will be approximately 65 conference speakers.
The preliminary conference program is available here:

Program 5th Baltic Bridges Conference Update: 2017-10-04 (292 Kb)
Please join us for the conference. All are welcome to attend!
For questions, please contact:
PhD student Frederik Bissinger: frederik.bissinger@balt.su.se
Visitors, please register with:
Ass. professor Lilita Zalkalns: lilita.zalkalns@balt.su.se
Conference participants and speakers:
Stay tuned and check out the latest news:
https://www.facebook.com/balticbridge/

Update_1_2017-05-04 (264 Kb)

Update_2_2017-05-04 (303 Kb)
Past conferences:
http://www.maailmakeeled.ut.ee/et/balti/konverentsid