Will you be teaching at Språkstudion autumn 2017? Read more about your resources and possibilities!
Will you be teaching at Språkstudion this autumn? Then, most welcome to Språkstudion. In this entry we have gathered what you need to know to get a good start as a teacher at Språkstudion.
Teaching
Rooms and resources
Språkstudion provides flexible computer rooms and seminar rooms for teaching, testing and self-study in languages and language-related subjects. Read more here about our rooms and the resources available for your teaching.
Introduction for teachers to the language lab system DiLL
The language lab system DiLL allows you to create interactive exercises where your students talk to/listen to you, talk to each other, make voice recordings and/or practise listening skills. You can also create tasks for your students in DiLL and listen to their submitted recordings from your office or your home via the web.
You need to take a short introduction to the language lab system DiLL in order to get teacher's access to the system. Contact us via e-mail or telephone to book an introduction session, or come to one of our drop-in introductions for teachers:
Tuesday August 29, 12 p.m. - 1 p.m.
Wednesday August 30, 8 a.m. - 9 a.m.
Tuesday September 5, 3 p.m. - 4 p.m.
Thursday September 7, 8.30 a.m. - 9.30 a.m.
If you won't be using DiLL in yout teaching, you don't need this introduction.
Tests and exams
There are several possibilities for testing and assessing your students at Språkstudion. Digital or analog solutions, including audio or visual elements, using text or signs, in real time or with submission for later assessment. We have long experience of university examinations and are happy to customise the setting and resources to suit your needs. Read more here about examination possibilities.
Booking
The administrator(s) at your department have direct access to book our computer rooms and/or seminar rooms for teaching and testing. Read more here about our booking routines.
Language materials for teaching
Available language materials
The language materials available at Språkstudion are selected and financed by the language departments at the Faculty of Humanities. Språkstudion is responsible for the digital infrastructure while the language departments are responsible for the contents. If you have new material for your course, or other ideas on material that should be made available at Språkstudion, please contact us. You can place material at Språkstudion both for shorter and for longer periods of time.
Media Database
The audio materials, apps, movies, books and web links available for teaching and studying are listed in our media database.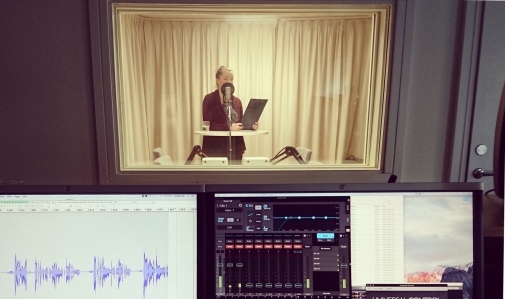 Producing your own audiovisual material
Språkstudion keeps a well-equipped recording studio run by experienced sound engineers. The recording studio is reserved for departments at Stockholm University, but if time and staff is available, it can also be booked by customers outside the university. Read more here about our recording studio and how to get access.
Welcome to Språkstudion!
Språkstudion on social media