One year of working at home – show us your everyday existence during the pandemic
What does your office at home look like? What image symbolises your pandemic year? We're looking for pictures that you want to share with your colleagues. We start by offering some pictures from various offices at home, from greenhouses to bathtubs.
Over a year of work from home for everyone who can. Over a year of online teaching. 18 March 2020 was the date when Sweden's universities and other institutions of higher education closed their campuses. Working from home can have its advantages and its disadvantages, depending upon the situation. Has it been easy or difficult to adjust? What picture symbolises your everyday life during the pandemic?

Clas Hättestrand, Professor of Physical Geography and Pro Vice-Chancellor:
"At my workplace at home, the birdwatcher is ready in the event of a rarity appearing outside the window. The binoculars and camera on the desk is also for the birds. It gets a little tricky sometimes if I get excited when an interesting bird appears in the middle of a Zoom meeting! During autumn and winter, I have counted over 30 species from my desk. For example, white-tailed eagles, hawfinches, European goldfinches and long-tailed tits.
One advantage of teleworking, is that one workplace can then be freely selected. From here, I work from the veranda in my summer house in Småland, outside Tranås. Writing a self-assessment for the Swedish Higher Education Authority (UKÄ)'s higher education institution review in August. The cows provide peaceful company."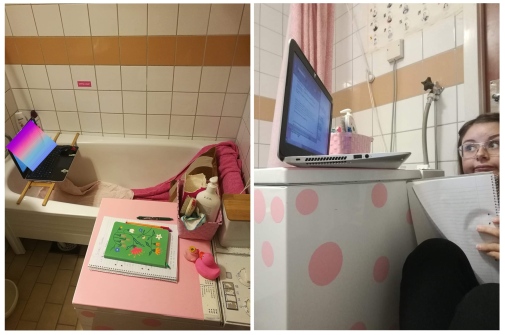 Majken Nilsen, studying the final term of the Bachelor's Program in Museums and Cultural Heritage Studies:
"The studies began to be remote at the same time they decided to renovate the bridge outside my window, sometimes sounding like they were renovating in my apartment. The lectures had to move into the water closet as I live in a one-room flat. Sometimes I sat in the bathtub – without water of course, and sometimes on the floor next to the washing machine. I wrote my bachelor's thesis last spring, just as the coronavirus pandemic broke out, and that was quite a challenge!"


Anna-Karin Landin, Communications Office:
"The official Zoom image vs. reality. Seemingly clean background and airy, but in reality squeezed between the desk, the wardrobe and the cot. It is on the edge that the chair can be rolled out and the wardrobe doors can be opened. The curtains are drawn, because of sunlight right in the eyes all morning. When one lives in a two-bedroom apartment, you just have to squeeze in the office at home wherever one can. Sometimes I sit in other places, but it's nice to have a proper workplace with a door that can be closed – a must when one's partner and children are at home."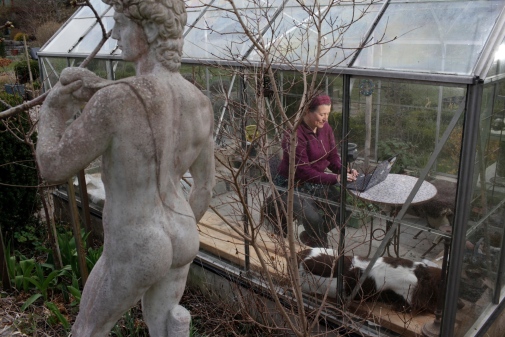 Sara Cousins, Professor at the Department of Physical Geography:
A year ago, Sara Cousins appeared in the last issue of the staff magazine Universitetsnytt and showed when she was working at home from her greenhouse. How has it been going; has there been a lot of work in the greenhouse?
"Sometimes I have worked from my greenhouse, especially when I am going to read. But no, not very much, during the summer it's simply too hot, and during the winter too cold. And right now we have crammed a lot of plants in there, so much that it's barely possible to squeeze in.
My entire family works from home; two adults and two young people who are in upper secondary school. There are Zoom meetings in every corner, so we made a room I could sit down and work in. We took help from craftsmen and made a skylight in an attic space.
Last year, when we did that interview, I hadn't really had time to feel like that it is for real. When I was about to start teaching, it seemed really difficult and stressful. I need that scene to go into, to feel like that it's serious. I was one of those people who worked at home a lot before, but when you have to, that's an entirely different matter. I'm going stir crazy; right now I just want to go back to my office."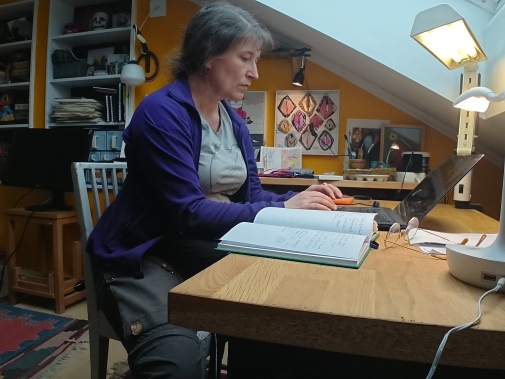 Send us a photo from your office at home
Send your picture and a few lines about your office at home to: redaktion@su.se
We will compile the images in an article on the Staff pages.